12 Campervan Essentials for Your Next Trip!
Space is at a premium, love for van life is not! When it comes to campervan essentials, you need to know what you really need – what's worth the space to make your life on the road comfortable, easy and enjoyable?
That's when you need to turn to those who've been-there-done-that. Learn from the experts about which campervan essentials really are essential. If you're new to the campervan experience, this will ensure that your first trips will go smoothly and you'll look like a seasoned pro.
1. Van levellers
Campervan Levellers from Amazon UK
Whether you don't want the dog rolling onto your head, or a sore back because you didn't sleep well, forget campervan levellers at your peril. These nifty little tools ensure that even if you're shockingly bad at choosing a level spot for your van, your van companions won't hate you.
Even the tiniest bit of unevenness can leave you tossing and turning all night and catching sliding pans off the worktop.
2. Drive-away awning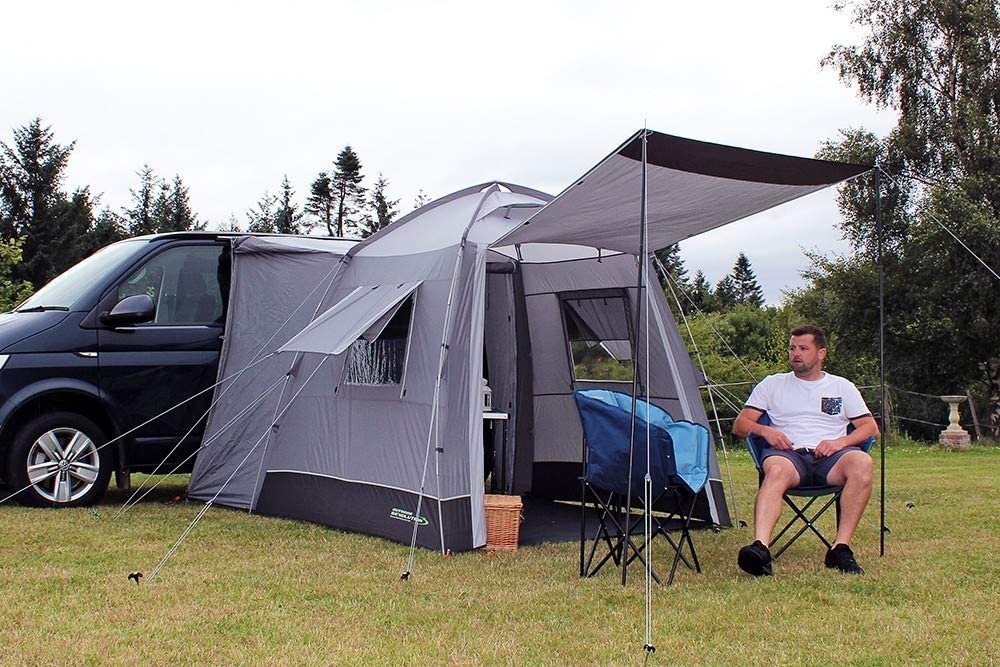 Drive away awning by Amazon UK
Ah space. Space is wonderful, but there's not much of it in even the roomiest of vans. The way to overcome this is to use an awning. We've chatted about campervan awnings before.
Awnings come in various types but when it comes to campervan essentials, we rate a drive-away one and with good reason. With the best will in the world, especially if you've got kids, stuff will end up in the awning that you don't want to be lumbering back into your van every day. Furthermore, you don't want to be packing up the awning every day that you're at the same site. And lastly, you don't want someone to pinch your pitch whilst you're out, and your awning can stake your claim.
Some vanners use a separate tent. Sure, it can do the job. But an attachable awning ensures that you've simply got a larger rain-proof living space. Your van is, effectively, extended.
3. Camping hook-up
25M electric hook-up by Amazon UK
Ok, so off grid is fabulous and we bow down and think you're amazing. But for some of us, the reality is that you're going to need an electric hook-up arrangement. From the digital nomad in need of laptop juice to the family extending their camping trips into the autumn and winter, power might just be essential.
Get a decent length camping electric hook-up cable so that things are more convenient. 25m isn't overkill and you'll thank us for the flexibility it gives you. If you're not just sticking to the UK for your travels, remember the right adapters too.
4. Camping chairs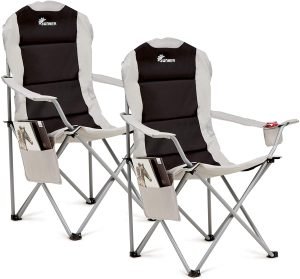 Set of Camping Chairs via Amazon UK
Snuggling up in the van is wonderful, but what about when you want to catch the rays on your face?  Or what about when you want to get toasty around the campfire?
Folding camping chairs definitely feature as campervan essentials as far as we're concerned. They give you a comfy spot that's just yours, wherever you want it. And as long as you choose lightweight and foldable, there will be room in the van for them.
5. Tables
Folding camping tables via Amazon UK
When it comes to campervan tables you'll want a two-pronged approach. First up, you'll want to consider what you can have inside the van. Then you need to think about what you need outside the van.
Being able to extend camp life to outside of the van will ensure harmonious relationships for all. And that requires a table. It's worth giving up some of your storage space to packing a folding camping table. Even better, if you've got little kids who eat food like pigs at a trough, then you won't spend your road trip forever cleaning and collecting squashed satsuma segments from the floor.
6. Camping gas
Image courtesy of Unsplash
Dewy mornings are made wonderful with a steaming cup of coffee, tummies won't grumble when they get a fry-up in them, and you'll make camping friends more easily when you can offer them a cuppa.
Undoubtedly, when you're writing your packing list, checking you have enough camping gas is essential.
7. Collapsible bucket
Collapsible bucket by Wow Camping 
You think you can't possibly need one, but we promise you, you will. Normal buckets are such a waste of space so they are easy to chuck out in favour of 25 other things. But you'll rue the day when you get to the campsite and find yourself wondering how to get water 200m to your van with nothing but a mug and a washing up bowl.
A collapsible bucket is the answer. It can serve as drainage under your sink, it can be used for washing stinky socks, heck, it can even be used for washing the baby.
8. Lights
Rechargeable camping lantern via Amazon UK
Nights under the stars are magical, but when you clamber into the van and stub your toe, you'll be wishing you had better lighting. A few battery-operated or USB rechargeable camping lights that you can hang up in the van are worth their weight in gold. Choose a lantern or two to make toilet trips easy and forgive your other half for wearing the geekiest head torch (unless he refuses to angle it so it doesn't blind you).
9. Mallet
Mallet via Amazon UK
Not got a tent? Think you don't need a mallet? Think again.
A camping mallet is far more versatile than simply being useful for hammering in the pegs, although many awnings need this too. You'll also need a mallet for getting the windbreak in properly on that trip to the beach. You'll need it for fixing that bent table leg. You'll need it to threaten the children with when they kick you for the umpteenth time in the middle of the night (joke: all family camping trips are entirely blissful affairs).
10. Camping kettle
Image courtesy of Unsplash
Frankly you can forget to pack absolutely everything as long as you remember a kettle and some tea bags. Every single camping problem can be managed as long as you have a cuppa in your hand.
Having a means to boil water easily makes quick meals a cinch. And no, don't use your cooking pan unless you want your tea to taste faintly of last night's curry.
11. Free-standing camping stove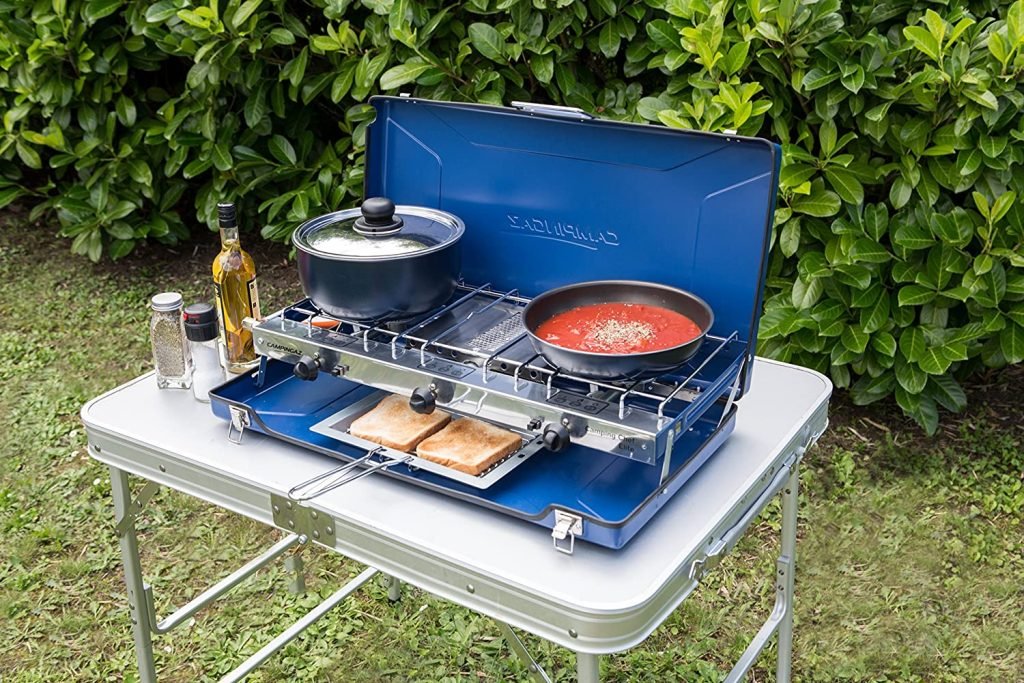 Camping stove via Amazon UK
Even if you've got the most incredible built in van kitchen that makes you the envy of every pitch you frequent, a camping stove will be important.
Being able to cook outside the van means you've got more space when you want it. It means that one of you can be prepping dinner inside whilst the other is feeding up the troops for the day. You can also take it with you for the day, whipping up some bangers on the beach for happy smiles all around.
12. Camping shower
Camping shower via Amazon UK
No one likes a stinky camper. And many of us don't like stinky campsite shower blocks. The solution is to add a camping shower to your list of campervan essentials. There are so many different shower options to choose from depending on your needs.
Choose the right one for your particular blend of van life and you'll be a happy camper – as will everyone around you.
There are lots of other 'good' idea items, verging on essentials, from camping towels to clothes lines, but this list of campervan essentials will ensure that you've got the bases covered.
If you plan to buy a campervan in the near future or already own one, then you will need to get campervan insurance before you can drive it. You can compare camper insurance quotes from multiple providers by filling out quick and easy form. Let us help you find the best deal for your needs.