8 Amazing Campervan Awnings for Rain or Shine
Campervan awnings have the potential to make or break your road trip. They extend the usable space of your van and they provide shelter in rain, as well as welcome shade in blazing sun. Knowing where to start with campervan awnings can leave you completely bewildered.
Of course, what you need tends to depend on your van lifestyle, party size and your specific vehicle. However, drive away campervan awnings are ideal for working with most campervans and motorhomes, so that's what we're focusing on here. Here are our 8 favourite campervan awnings for different vans and party sizes.
What's great about the Base Connect Fresh awning is that it's super-fast to put up because it's inflatable. It's spacious enough for up to 6 people, but packs up reasonably neatly so it won't take up too much room when you're driving in the van. It's versatile and connects to most vans, or even tents. Usefully, the groundsheet is inbuilt which makes it really handy for getting shelter up quickly in the rain.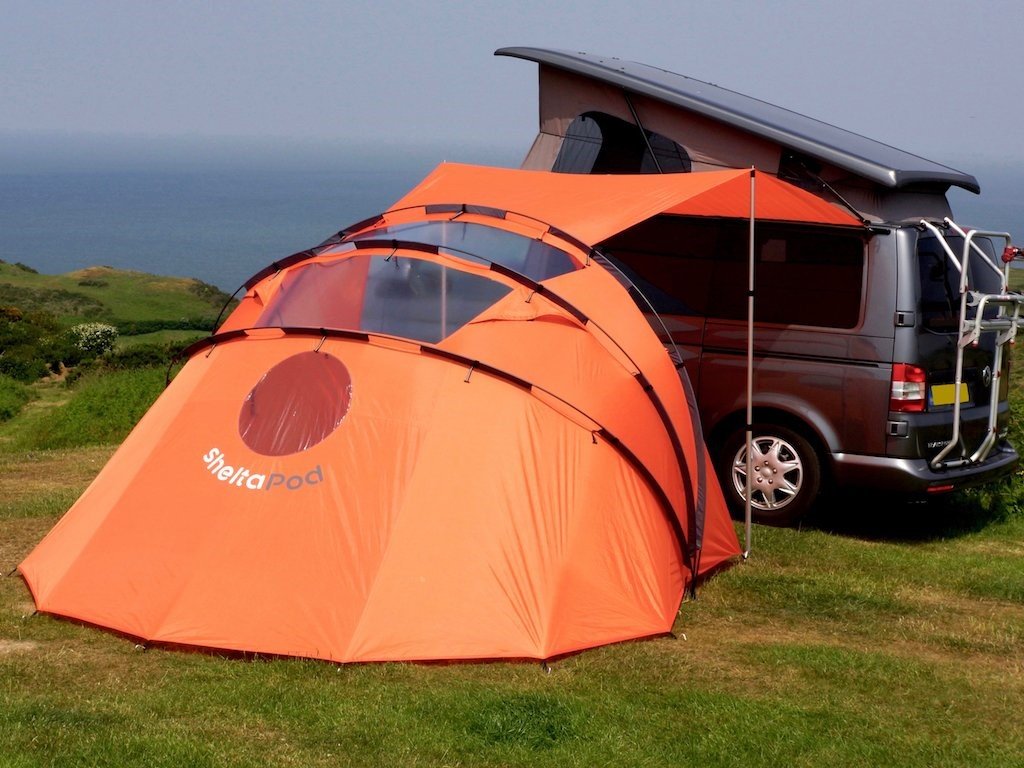 If you're looking for a fantastic and compact awning that can be used with any campervan up to 2.8m, then you won't go wrong with the SheltaPod. You won't find many options that tick as many boxes in terms of versatility when it comes to campervan awnings.
The roll-up system means that you can go from full-on 3-4 man tent through various stages of sunshade to a simple an classic cover for exiting the van. You can open and close panels and blinds, and opt to use the internal groundsheet or not.
The Cocoon is absolutely perfect for unreliable British weather! It's absolutely fantastic for larger parties who squeeze into the van for journeys and then need somewhere to stretch out. And if it's raining, you don't just benefit from the 5 berth bedroom tent section, but you get a spacious canopy section for everything from cooking gear to wellies.
The way it sits lengthwise along the van also makes it ideal for tight pitches that seem to shrink when you leave them. It saves you doing difficult guy rope manoeuvring when you drive away for the day and return in the evening.
At the other end of the size scale is another of the fantastic Olpro campervan awnings, the Cubo Breeze. Small and lightweight, it fits into a pack size of just 82 x 37 x 37cm, so you won't lose masses of van space when you head out, but you will gain some extra space when you pitch up.
It's another inflatable option and will be fully erected in just 10 minutes, with no need to wrestle with long poles.
The Skandika Camper Tramp comes with a 2-berth sleeping cabin and excellent height. It's plenty spacious for you and your camp mate. It's a great awning in terms of allowing lots of natural light with huge big windows.
Designed for VW modern vans, we've found that you can use this drive away awning on a variety of vehicles even without rails, simply by popping the guys over the vehicle roof and securing on the other side.
Again, this is an inflatable awning and the clip-in groundsheet means that you can use it in the way that best works for you. This is actually one of the older campervan awnings in the Kampa Dometic range and we'd happily recommend any of them.
There are lots of options from the Movelite range and we have struggled to narrow it down to just one that we love. We've settled for the Movelite T4E PC, which is the recreated version of a previously much-loved awning, as they themselves describe it as their 'flagship' model.
It's tough, it's breathable, and it's completely waterproof whilst also being great in warm weather. You can configure it however works best for you, with a back door and optional zip-on bedroom. You can also opt for additional dividing tents for the inside too. The canopy is spacious and high, and it's an all-round great awning.
If you have a big campervan or motorhome and need something with height, and enough space for your brood, then the Vango Motor Montelena Air 330 – XX Large is going to make you happy. This is a traditionally shaped awning but it works on the inflatable system, so you'll get it up and down quickly. It's made using the Sentinel Luxe Taslan fabric, ensuring it withstands both rain and shine.
We fell in love with this awning for many reasons, but it was the stargazing out of the skylight windows that really made our soul sing! We also liked that the front door could be removed completely, making it lovely and airy on a warm day. There's also an extra annex you can add on if you need more space. All in all, it's a retro-style meets modern-tech combo that's the winner.
Secure your campervan awnings!
It is one thing having all your treasured road trip gear and belongings stashed in your lockable van, it's another when you use an awning and drive away for the day. Make sure that your campervan insurance covers your campervan awnings and any belongings that you will store in there.