15 Genius Campervan Storage Ideas for Your Next Adventure
It's time to hit the road for the next adventure, but before you go, it's time for a game of Van-Tetris-Meets-Jenga. Yes, before you can whip out the map there's a van to be packed. And that's an issue when you don't have decent campervan storage. Indeed, when it comes to campervan storage, you need to be nifty and clever, ingenious and inventive, and just mighty good at making space expand to fit yet another thing that you absolutely do need.
It's a good job we've got 15 genius campervan storage ideas to ensure you can shoe-horn in everything you want and a good bit more too.
1.     Fold down, fold up
Our first genius idea is to remember that storage needs to be flexible. What you need on the road isn't necessarily what you need at camp. Therefore, make sure you think about how your storage will actually do its job in both locations. For example, take the fold out desk for the digital nomad in the image above. You don't need the desk on the road, or even all the time at camp, so make sure it folds away nice and easily.
2.     Use your doors
When it comes to campervan storage, doors are your best buddies. These humble souls are capable of giving you tonnes more space, so use them wisely. Think about when your door is shut, both with and without you in the van. Then consider how you can add things to the doors to help stash the stuff you need.
3.     Chocks of blocks
Don't waste space! By using block storage that pulls out on castors or rails, you can ensure every spare inch is used to best effect. We're huge fans of how in the van above, the storage blocks double up to create dining seats.
4.     Use your bench seats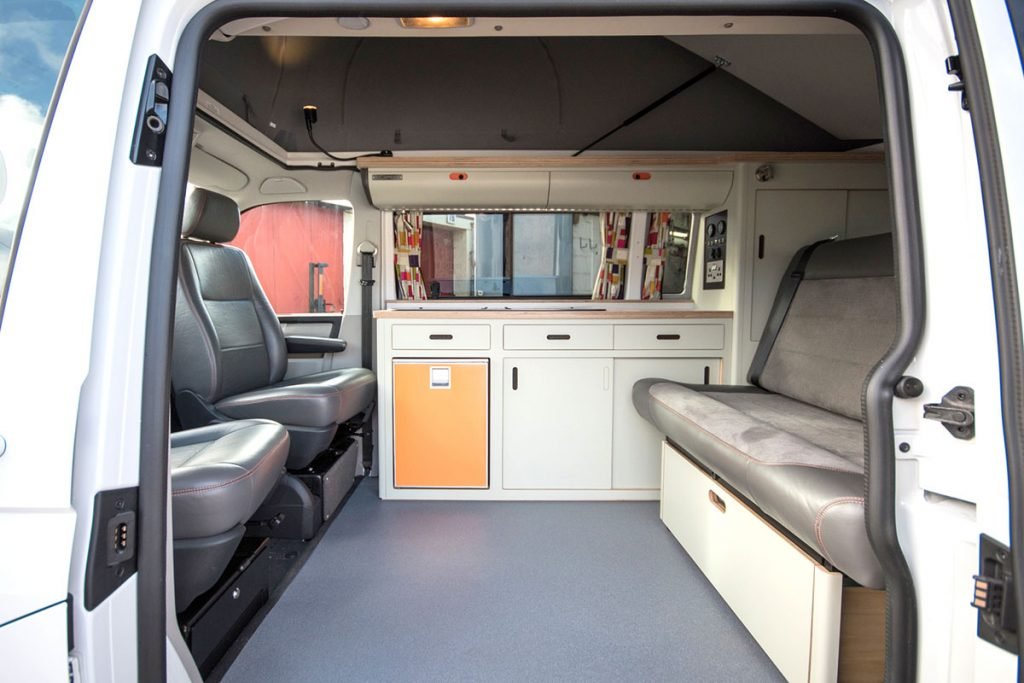 Image Source: Cambee
Fold out bench seats that double as beds are already doing two jobs for the space of one. Why not level-up and get a third in on the action? We've seen loads of different solutions, but the easiest and most versatile is by far having roll-out drawers under the seats as Caron and Gary had done in their tourer.
5.     Make a hole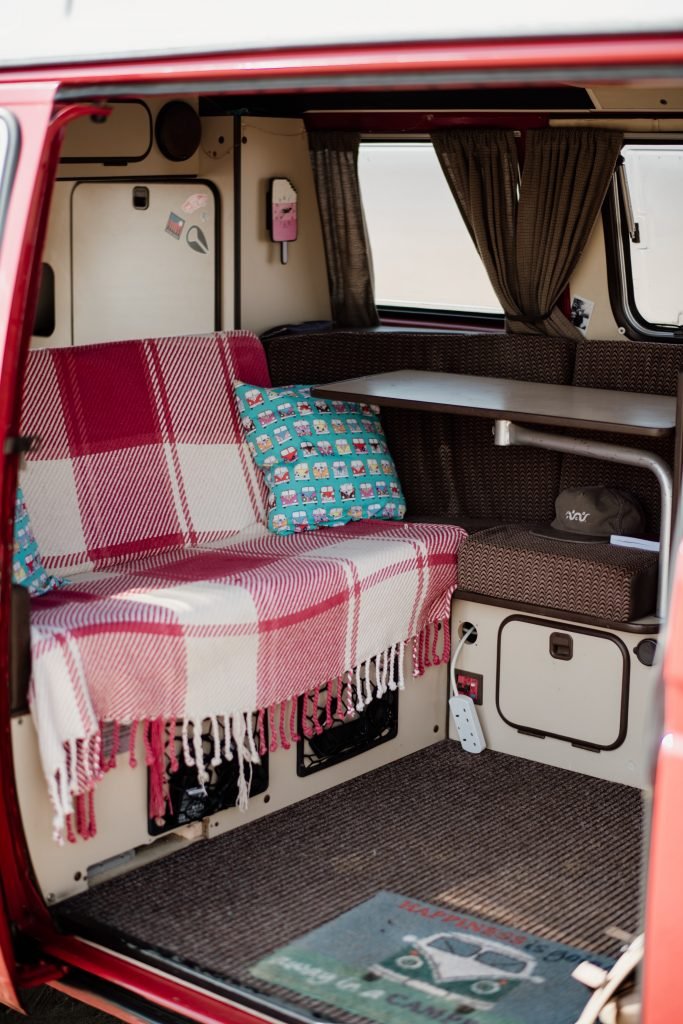 The trick with campervan storage is to consider every-little-minuscule-detail. If everything has its place then you can banish the chaos that happens within 3 hours of camp when your van suddenly looks like a messy Aladdin's cave. So think about everything, and tidy away those wires! We love how these campers made a simple hole for their power lead in their cupboard so everything else could stay put.
6.     Ropes, bungees and cords
Image Source: gnomadhome
It's one thing having loads of storage; it's another being able to actually get to the things you want. The temptation with campervan storage is to simply add more and more, without any thought to actual van living. Van life needs to be a practical life. You need open and accessible storage that doesn't result in everything coming crashing down when you hit the track ruts on your way into the campsite. Have open small shelves and use ropes, bungees and cords to secure everything in place whilst still being visible, just like Gnomad Home has done here.
7.     Access from the back
It's an absolute must to consider the back door of your van as the actual door of your storage solution. It's the way to maximise space and get best bang for your buck. It's tempting to build all storage to be accessible from the inside. However, if you do some nifty joinery like you can see here, you'll find you actually have more versatile space.
8.     The back, the back, the back
Indeed, in most campervans, especially smaller ones, the back of your van is where the storage party is at. This is because it has a magically expanding vortex of space as soon as you open the rear door. That means you're not factoring in your own cumbersome bodily access when you're designing the storage. It makes sense – trust us.
9.     Nets, everywhere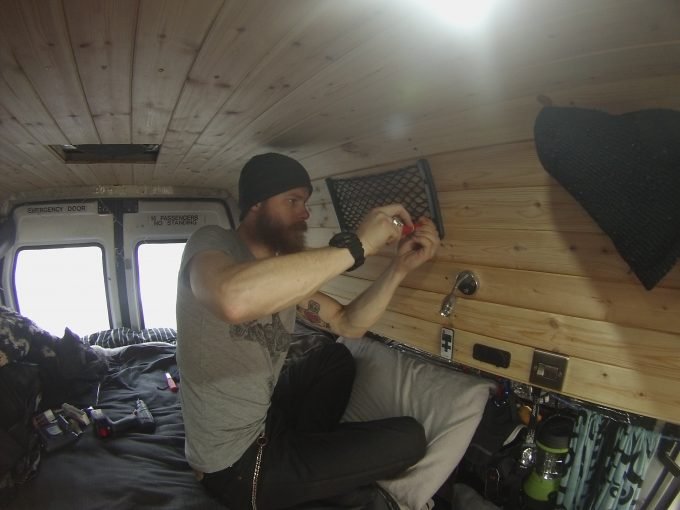 Image Source: DIY Camper Conversion
The issue with campervan storage is that no matter how clever you've been with your hidden storage, you still need certain things to hand. That's where it gets a bit complex. You can't just pop something down on a table and expect it to still be there after 7 miles along country lanes, or after the kid, your dog and the wind have whizzed through the van. So, nets are your answer. They ensure your phone charger, book, sunglasses and head torch are handy and you can see them, so you know just where they are.
10.                        Don't forget the roof!
You spend ages thinking up clever storage solutions for the inside of the van and promptly forget that awesome chunk of space that's ripe for the taking: the roof. We've seen some ultra-cool roof storage (not least the rooftop tent!), but if nothing else, get some roof bars and go upwards. Remember, when you get to your destination, you can unload this lot into the awning.
11.                        Back for bikes
If you love your bike almost as much as you love your camper, you're not alone. It makes sense to have these handy two wheels when you get to your destination, rather than having to pack up the van… again… when all you want is a loaf of bread and a pint of milk. But bikes are cumbersome. It may be what the masses do, but it makes sense: pop the bikes on a dedicated bike rack on the back.
12.                        Keep using the outside
The outside isn't done yet as far as campervan storage is concerned – it still has something more to give. If you've really got a tonne of stuff and simply can't fit it in or on the van, it's time to extend your space. It doesn't have to be as cool as this campervan-themed trailer (but oh, we hope it is), but trailers are your buddies when you need more room.
13.                        Pack the kitchen sink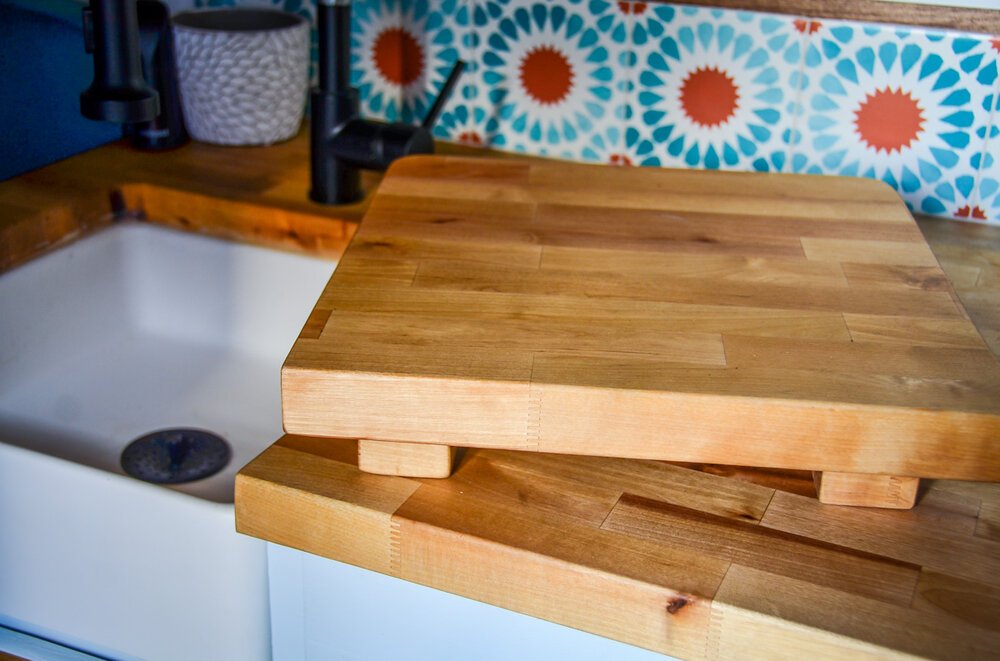 We just love what the guys over at Two Wandering Soles have done to create bucket loads of storage, but we're particularly going crazy for their sink! Think about it – you can use your sink to pack up everything from the dish soap to the breakfast cereal. You just need to cover it up and lock it in for the journey before arrival where all the kitchen paraphernalia can come out onto the work top. What's more, do what they've done and you actually create more worktop space too.
14.                        Stick it up
It's good enough for 'real' kitchens, so it's good enough for your camper: stick jar lids to the ceiling or underside of shelves and then stash whatever you need in the jar. It stays put when you're on the move, it's transparent so you can see what's what, and frankly it just looks good too.
15.                        Go narrow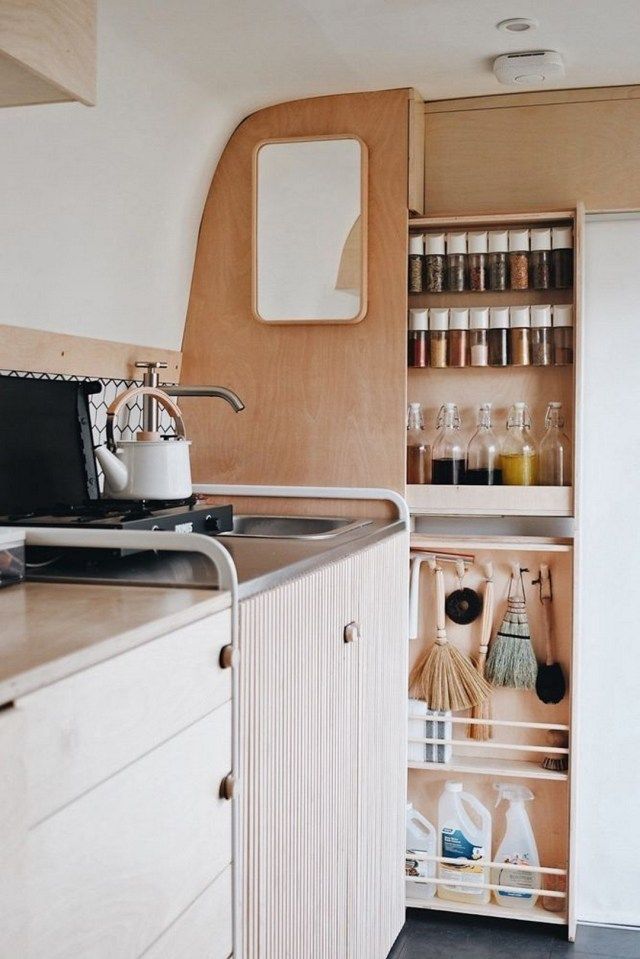 Last but by no means least, use up every last bit of remaining space by putting in narrow sliding storage that you can pull out when you need it. Never underestimate the value of these small little slots – you'll be surprised just how much you can fit in.
Pop on your creative mind, think about functionality, and see what clever campervan storage ideas you can come up with.