Our Guide to the Best Small Campervans
Small campervans are little bijou havens of happiness, if you get them right! They should be cosy but not cramped, comfortable but have savvy storage, and work on winding country lanes and standard parking spaces.
There isn't really any room for error when it comes to choosing a small campervan. That wasted 10cm is going to matter when space is at a premium! That's why we're sharing with you how to identify the best small campervans, and how to choose the right one for you and the van life you're after.
Flexibility matters – removable or convertible fittings are essential
Without wishing to state the obvious, small campervans are small. It's there, in the name! This means that you do really need to take a slightly different approach to configuration compared to a roomier option.
Generally, with a larger campervan, you aim to have a fairly permanent set up. Yes, there will be the folding bench beds and the like, but fundamentally, everything has a home and it stays there. With a small campervan, you may want to take a slightly different approach. Maximising space may mean using it differently on different trips. This means that you need the flexibility to be able to put things in, or take things out. Think about it; a weekend going solo fishing is going to require a different set up to a romantic month moving from spot to spot in Europe with your other half.
Therefore, these two campervans make it into our best small campervans shortlist, precisely because of their flexibility:
·         Bilbo's Space Van
Image: Bilbos
Using a VW, you can rest assured that the mechanics and structure are all in place, plus of course, the van just looks super cool. What's great about Bilbo's Space Van (apart from it's awesome name)  is its modular configuration. So whilst it sells itself as having a Day and Night set up, it's actually even more flexible than this. Don't need the kitchen storage pod for this trip, no problem, you just whip it out.
In addition, you can choose whether to go for a hightop or elevating roof – both options of course give you more space. The four belted seats mean that you can use this van as a mode of transport for 4, not just a bed on the road for two.
All in all, we love this little van for its versatility.
·         Jerba's J-Pod
Image source: Jerba Campervans 
Competing on cool name alone is Jerba's J-Pod. With Jerba vans you also get to play with the interior with a bunch of different removable fittings. Fundamentally, you get four main choices for how you hit the road: full camper, family vehicle, half-in-half-out, or awning living. But again, it's all about what works for you.
Creating a sense of space, without actually adding any!
Another nifty trick when it comes to small campers is to choose vans with twin doors – one door on either side of the van. Loads of small vans miss this clever trick. By having doors which open on both sides, you don't actually gain any extra space within the van, but don't let that fool you. But what you do get is a greater sense of space, and more versatile living.
Believe us, if you're going to be in that van for more than a day or two, then being able to sling open the doors and make it one with the outside will make all the difference. Being able to use awnings on both sides, and shifting your kitchen outside, is just one way to suddenly make your small campervan seem like a luxury spacious pad.
These are our two favourites of the best small campervans with twin doors:
·         The HemBil Drift

Image source: Concept Multi-Car
Ok, there's so much we absolutely love about the HemBil Drift but if we had to pick one thing then it'd be the ingenious swinging kitchen. Talk about making whisking up van grub a less cramped affair! It's really a savvy space saving design because it swings outside of the vehicle (it can go under an awning if you need to) and gives you a double burner, sink (with cool automatic tap) and pots and pans storage.
What's also incredible is that there are actually FIVE belted seats in here and you can even sleep four adults inside the van.
·         Auto Campers
Image source: Auto-Campers
Auto Campers use either the Ford Transit or a VWT6 Highline as the base vehicle. Again, what really sells their design to us is the two sliding sides, and the kitchen which can be moved to where you want it (inside or out).
Need the loo?
People seem reluctant to mention it, but when it comes to small campervans, ablutions can be a bit of an issue. It's because, in the small camper world, something has to give and it's your bladder, your bed or your kitchen. Usually go portable or have to resign yourself to pitching near the loo block.
However, some van designs prove that you don't have to compromise (or be the one trekking across the campsite to the manky loos at 3am). You do lose living space, but if your own personal bathroom matters to you, then, well, it's important.
We have one clear winner when it comes to the small campervan with a bathroom:
·         Jules Verne
Image source: Westfalia-Mobil
There is so very much we adore about the Jules Verne by Westfalia. It's not just the presence of a loo which makes this a super luxury small camper. You've actually got a toilet, shower and sink in here, and yet somehow you don't really feel like you're losing too much space and the clever design still leaves plenty of room for a double bed.
Rising roof designs
We'd say another really important factor to consider with small campervans is a rising roof, particularly if you're on the tall side. They are a clever way to add space when you actually need it. Jerba and Bilbo come back into the frame here:
·         Jerba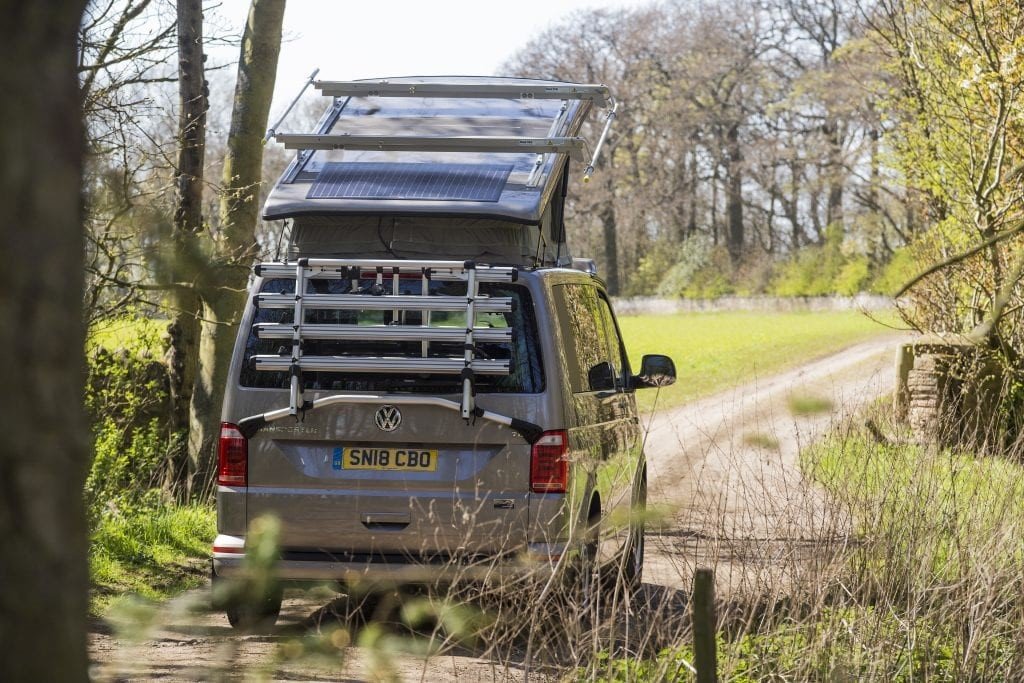 Image source: Jerba Campervans
A real defining feature of Jerba campervans is their pop-top roof. The canvas can be completely removed, making it so much easier when it inevitably needs a clean. Plus it's entirely cotton canvas, making it durable and breathable. What's more, you still get a roof rack with a 100kg carrying capacity – pretty important when it comes to a small van!
·         Bilbo Celex
Image source: Bilbos
The Bilbo Celex has actually won awards for its roof, so we're talking about the good stuff here. Indeed, the Celex is Bilbo's most popular sale.
Small campervans can offer you everything you need and a little more besides. Just make sure you really think about what you need before you make the jump.