A Complete Guide to Buying a 2 Berth Campervan
It's exciting choosing a 2 berth campervan. Ahead of you lie cosy days and nights touring with your most important other person. However, it can also be a little daunting knowing which to choose. Here we take you through what to consider, as well as listing 10 of the best modern campervans to choose from.
Ask yourself the important questions
Before you start, figure out what you're really looking for in your 2 berth campervan. There's a huge amount of choice out there and narrowing it down starts with creating a list of your essential criteria.
So scoot through and jot down what's important to you in terms of:
Who will be using it?
What will they be using it for?
How often will they use it?
Where will they use it?
What's the budget?
There's a big difference in terms of what you need between an occasional weekend campervan or motorhome for the UK versus a campervan or motorhome to be lived in for months traversing continental Europe!
It's also essential to double-check that a 2 berth is the right choice for you. You can use a 4 berth for 2 but you can't use a 2 berth for 4! So, think through if you're likely to want to take friends or grandchildren, or anyone else! And definitely choose a van which has 4 seat-belted driving seats.
Essentials + Luxuries
When considering your 2 berth campervan, you'll need certain essentials (such as a bed and seats!). However, what is a luxury will depend on how often you plan to use the van and what for. A plethora of USB ports may be a luxury if you're only planning on using it for a weekend getaway. However, they would be a luxury if your van will be home to a digital nomad working on the road. Similarly, heating may be a luxury, or it could be an absolute must-have if you'll be using it to head out in winter to the lochs of Scotland or the Alps for a spot of skiing.
Budgets
Below we've listed 10 of the best UK 2 berth campervans. However, all are new and as such, may take you beyond your budget. Don't despair. You could consider a second-hand campervan – there are plenty of options out there, it just takes some research. You certainly will get better bang for your buck.
Which campervan to choose
Choose your 2 berth campervan from our 10 favourites below:
·         VW Grand California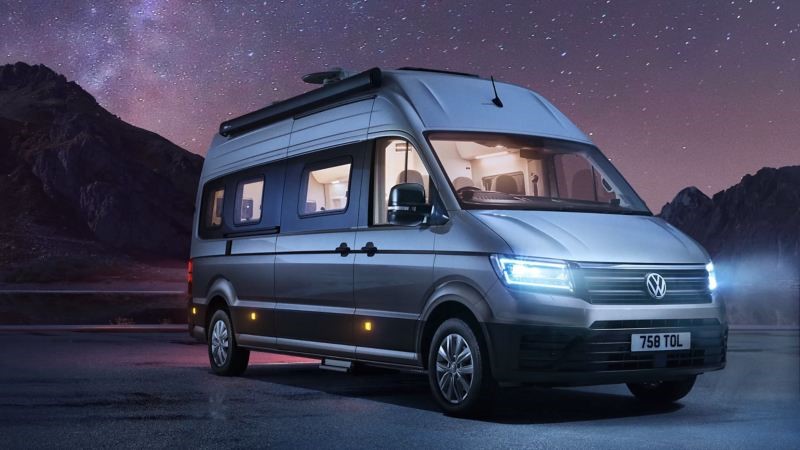 Image source: Volkswagen 
Still the name to get, you can't beat the VW if you want the quintessential campervan. Whilst this newer version doesn't hold the retro appeal, it is proving to be a very popular choice (and you've got a washroom too!). You can choose between the transverse-bed 600 and the slightly longer 680 which has a fixed twin bed. This isn't a cheap 2 berth campervan, but being VW, you can expect it to hold its value.
·         Frankia M-Line T 7400 QD
Image source: Frankia
The Frankia 2 berth vans are all about luxury – based on a Mercedes Sprinter, you can expect top spec and additional room for passengers, in addition to the island bed or twin beds. This is actually the sister van to the award winning T 7400 GD which won the Luxury Motorhome over 3500kg award in 2019. This is a great 2 berth for the UK as it is designed for all-year touring.
·         Elddis Autoquest CV60/Compass Avantgard CV60
Image source: Elddis
Compact but winner of the Best High-Top Van Conversion award, the Elddis Autoquest CV60 has everything for comfortable cruising. The foldable bed converts to a day bed, ensuring maximum use of space around the clock. This versatility ensures that although it's compact, it feels very spacious. Based on a Fiat Ducato, this is an excellent van for touring, especially if you're likely to want to fit into regular parking spaces!
·         Hymer B-Class MC T 600
Image source: Hymer
Based on the Mercedes Sprinter, this Modern Comfort range gives a good balance between luxury and affordability. You can choose between lots of different add-ons which will increase the luxury-feel, but also the price. However, the standard spec is very worthwhile too. The twin beds sit up in the rear, the kitchen is in the centre with the washroom, and the lounge is at the front.
·         Bailey Autograph 69-2
Image source: Bailey
This is definitely a luxury 2 berth campervan. There's a spacious rear lounge and this newer model has slightly more room. You can choose to configure the beds as twins or as a spacious double. This is a techy-van with bundles of USB ports so that you can run all your devices.
·         Murvi Pimento or Piccolo XL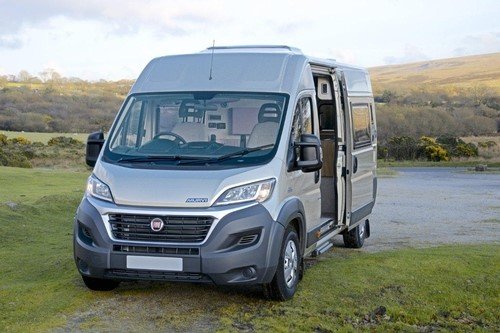 Image source: Murvi
Also based on the Fiat Ducato, the Piccolo and Pimento give a remarkable amount of space given their small stature. The kitchens are always flexible, with various different options based on an L-shape. You'll have plenty of storage. The washroom snuggles into the offside rear corner. It's not large, but it does the trick. You can also choose between two singles or a double bed.
·         Malibu Van Charming Coupé
Image source: Malibu-Carthago
There are a bunch of different options when it comes to the Charming Coupé so that you can be sure that you get the exact configuration that will suit you and your travelling companion. The build quality is great and all in all we think it's a really stylish van (we love the porthole windows!). The 3-in-1 Malibu washroom ensures lots of space, which is often in short supply in two berths.
·         Pilote Pacific 696D Essentiel
Image source: Pilote
You'll be amazed at how spacious this 2 berth van is, due to some clever configurations. The double bed drops down and so doesn't take up valuable floor space. The lounge sits up the front and definitely comes with a touch of luxury.
·         Auto-Sleeper Symbol Plus
Image: Auto-sleepers
This is a Peugeot van conversion and as such it looks good on the outside. On the inside you'll find a roomy front lounge whilst at the rear is the L-shaped kitchen and the washroom. Award-winning, this is proving to be a popular two berth choice over the last few years.
·         WildAx Elara
Image source: Wiladax
Another conversion on a Mercedes Sprinter is the Elara. There is an island bed which takes up a chunk of the rear, but if spacious comfortable sleep is your main priority, then this will appeal to you. For many, especially in 'couples vans', it's reasonable to sacrifice some lounge space for a fabulous bed! Of course, underneath the bed is lots of storage. There's a good kitchen too.
Don't forget that when you buy your campervan, it's essential to quickly sort out your campervan insurance. Choose a provider dedicated to campervans, and as such is knowledgeable about exactly what you need. Compare campervan insurance quotes.