Splash Out on These Fantastic Campervan Shower Ideas
If you're chatting with anyone who isn't a campervan aficionado then eventually the question will form on their lips: "but how do you take a shower?" There will be a slight tone of fear or revulsion, we're not sure which, but many people's imagination simply can't comprehend that those with vans are pros at ingenious solutions!
We're not pretending that it's not a tall order. Of course, the simplest solution is to forgo the campervan shower and just make sure you park up somewhere you can use one, from a designated site to your forgiving friend's driveway. If you're feeling really inclined you can even do that old hack of timing your family trip to the swimming pool with shower day. There are pros and cons to having a campervan shower, we'll grant you that.
But we're more ambitious than resigning our van life to being constrained by ablutions. We know that you can have a truly glorious shower all within (or close to) your adored van. You'll need to be creative, and that's where our collection of campervan shower ideas comes in. See what floats your rubber duck from the ideas below and come up with a shower arrangement that works for you and your van lifestyle.
1.     The campervan shower that sucks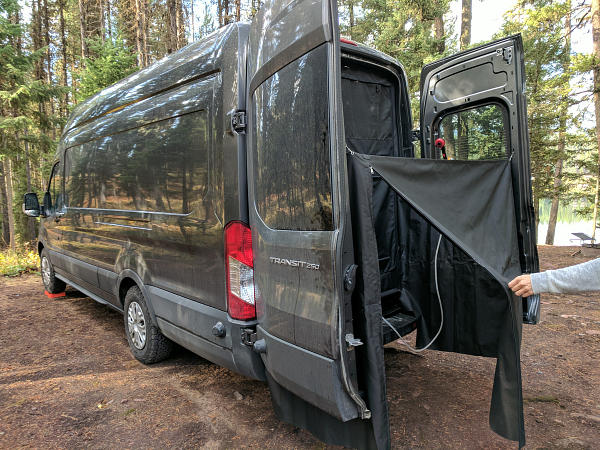 We love this idea from Far Out Ride. Their suction cup shower works perfectly with the outdoor shower they've created. The curtains also add privacy for the ultimate alfresco shower.
You can pop it up inside the van over a tray or bucket, or, if you position it carefully and with a long enough hose, you can pull it out, attach it to the side of the van, and create an alfresco shower for you (and in this case, the dogs).
2.     Sit on your throne. The shower and toilet combination.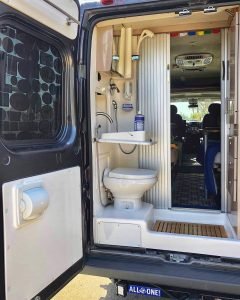 It doesn't come much more convenient than this over the loo shower by Living the Vanlife. Pretty, practical and compact, it is a fantastic use of space in their van.
3.     Take a seat
Let's face it, if space is at a premium then why not use it to level-up your luxury and go full out for a bath-style shower?!  This amazing post on Climbingvan showcases this seriously ingenious idea of fitting a bath tub under a bench seat and having a shower attachment there and ready to go.
Additionally, this is a good plan in terms of water splash. If you're sitting down then there's less chance of the shower water bouncing its way around your beloved van.
4. Lift it up
How nifty is this idea seen on Campal?! It takes some clever jiggery-pokery with the pipes, but you've got ready made cover and a perfect at-height shower head. Just take care to possibly have a shower screen covering the entry to the van so that you don't accidentally spray your bed or seating!
5. Use the Door
A tropical outdoor shower, perfectly fitted to the van door! An ingenious shower solution from vandogtraveller.
6. Keep it on the Down Low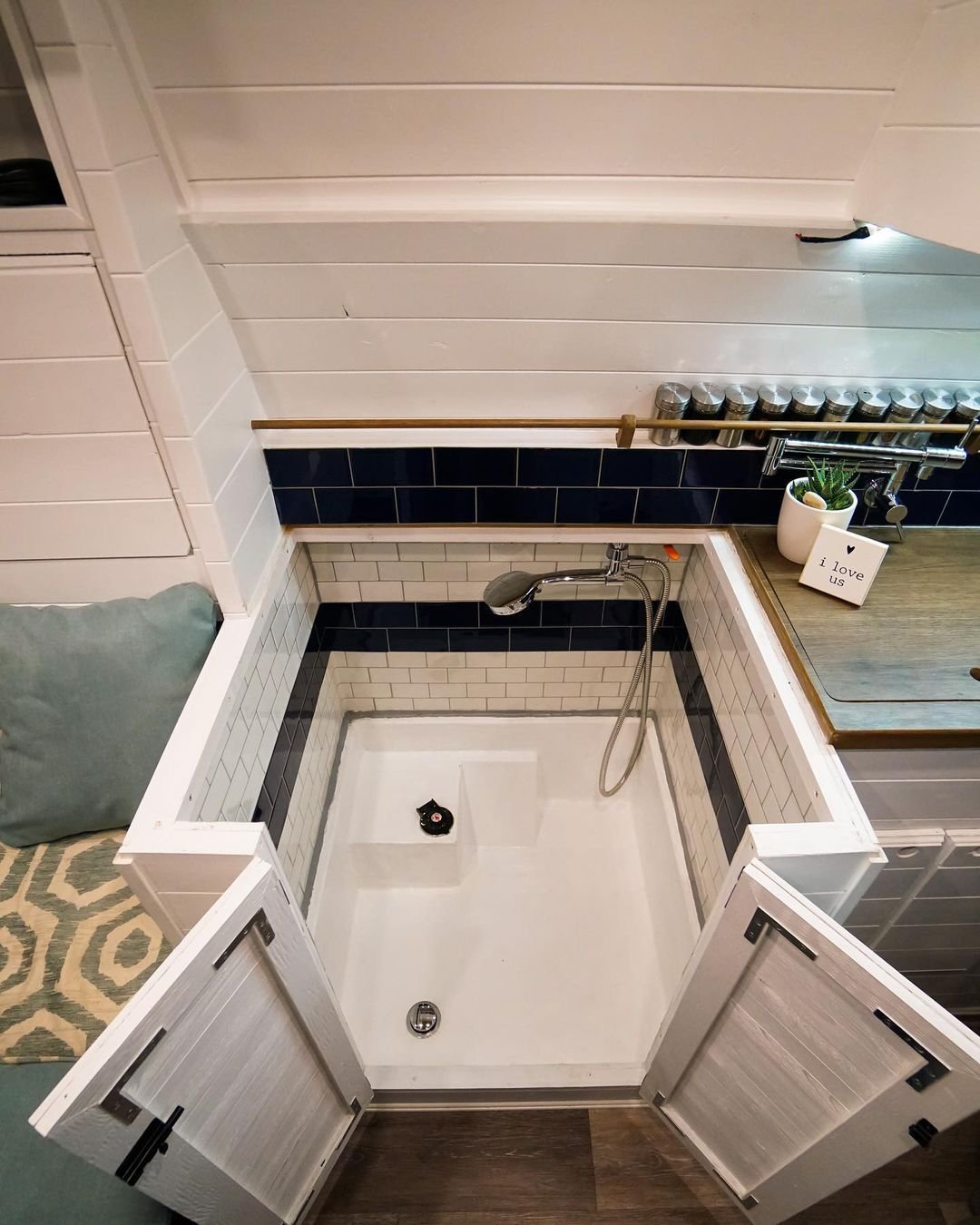 This design is incredible sleek, and perfectly integrated into the countertops spotted on Vanclan. When you're ready to shower, simply hook up a plastic curtain to prevent the splash.
7. Make your camper shower a feature
Featured on Offgridspot this luxurious campervan shower shows just what is possible with the right budget and a smart design. Elegant and spacious – perfect for those who spend a lot of time in their vans.
8. Go alfresco
This stunning shower setup featured on Climbingvan is a great reminder of the blissful freedom a campervan can offer. Using the suction shower mount again, if you're a hardened or fair weather camper then always showering outside the van is an option. This way you only need to worry about water supply and not so much about drainage. Just choose somewhere where the run off won't bother people or wildlife, and pop on your swimmers if you're showering with an audience!
If you're fitting a campervan shower inside the van, don't forget to take every step to waterproof it. Nonetheless, things can still go wrong. That's why campervan conversion insurance is so important. The last thing you want is your interiors ruined by a leaky shower and just hard work and hefty bills to show to make it right again.
If you plan to buy a campervan in the near future or already own one, then you will need to get campervan insurance before you can drive it. You can compare camper insurance quotes from multiple providers by filling out quick and easy form. Let us help you find the best deal for your needs.