Campervan Accessories – The 15 Best Things You Will Need!
Ah, life in the van and on the road… it's a blissful heaven of freedom, travel and good times. But whilst your campervan is central to your experience, it's always made more special by having the best campervan accessories. Accessories to consider range from those which are specifically designed as accessories for campervans to those from the camping and travelling world which we can tell you will raise the bar of your experience.
So, don't just chuck some random items in the van and make do. Choose wisely, choose intentionally, and really make your campervan life, the best life. Get a selection of these campervan accessories.

1. Awesome campervan awnings
Source: Outdoorworddirect
Heading out in the campervan is all about getting out into the great outdoors, and whilst you love your little van for its cosy and snug interior, once you're at camp, you sometimes want a little more space.
The solution and the mother of all accessories for campervans is your awning. It sounds simple, but choosing your campervan awning can quickly make you feel like you need a degree in engineering and terminology.
Which campervan awnings are best and most appropriate will depend on your van model and needs. Are you planning on sending the kids out there to sleep? Or is it just a porch so that you can kick off your muddy boots without being rained on?
When choosing, think about the weight and how much space it'll take up in your van. Think about whether you want a wind-out style, permanently mounted on the roof. Alternatively you may want a drive-away style, so that you can effectively leave it as a pitched tent when you head out for the day. Think about the material and construction.
Don't forget to make sure your camper van insurance covers accessories which will be outside the campervan, such as awnings!
2. Rest and relax with foldable furniture
Source Collins Lesulie on Unsplash
Yep, card games around your campervan table are one thing. Full blown chilling out, dining, and inviting your pals over is another. The solution is foldable camping furniture which is functional and creates an outside eating area with a bundle more space and is a must have campervan accessory.
From tables which allow you to lay out a glorious feast of antipasti to folding chairs which enable you to gather around the fire for stories and marshmallows, folding furniture makes life easier.
Choose lightweight and easy to clean. Do make sure you've considered where your furniture will be stashed in the van. Think about the needs of your van-group. You may do well with an all-in-one picnic bench, or fishermen's chairs might be more your style and offer flexibility. You can even get folding foot stools to really bring some luxury to camp.
3. Batty for door mats
Source: Grant Durr on Unsplash
Want to quit the interruption that yelling at kids brings to your sense of Zen when they, again, walk mud into the van?! One of the simplest campervan accessories is a bog standard door mat – preferably one for inside and one for outside. Honestly, it's transformative.
Choose an interior mat which has a rubber non-slip backing and can be rolled up and washed.
Your exterior mat needs to be lightweight and great for doubling up as shoe storage. Make it lightweight so that it doesn't soak up dew and condensation like a sponge.
What's more, there's something exceptionally homely about wandering up to your campervan to be greeted by a welcome mat. Choose a design that makes you happy.
4. Get fresh with a portable shower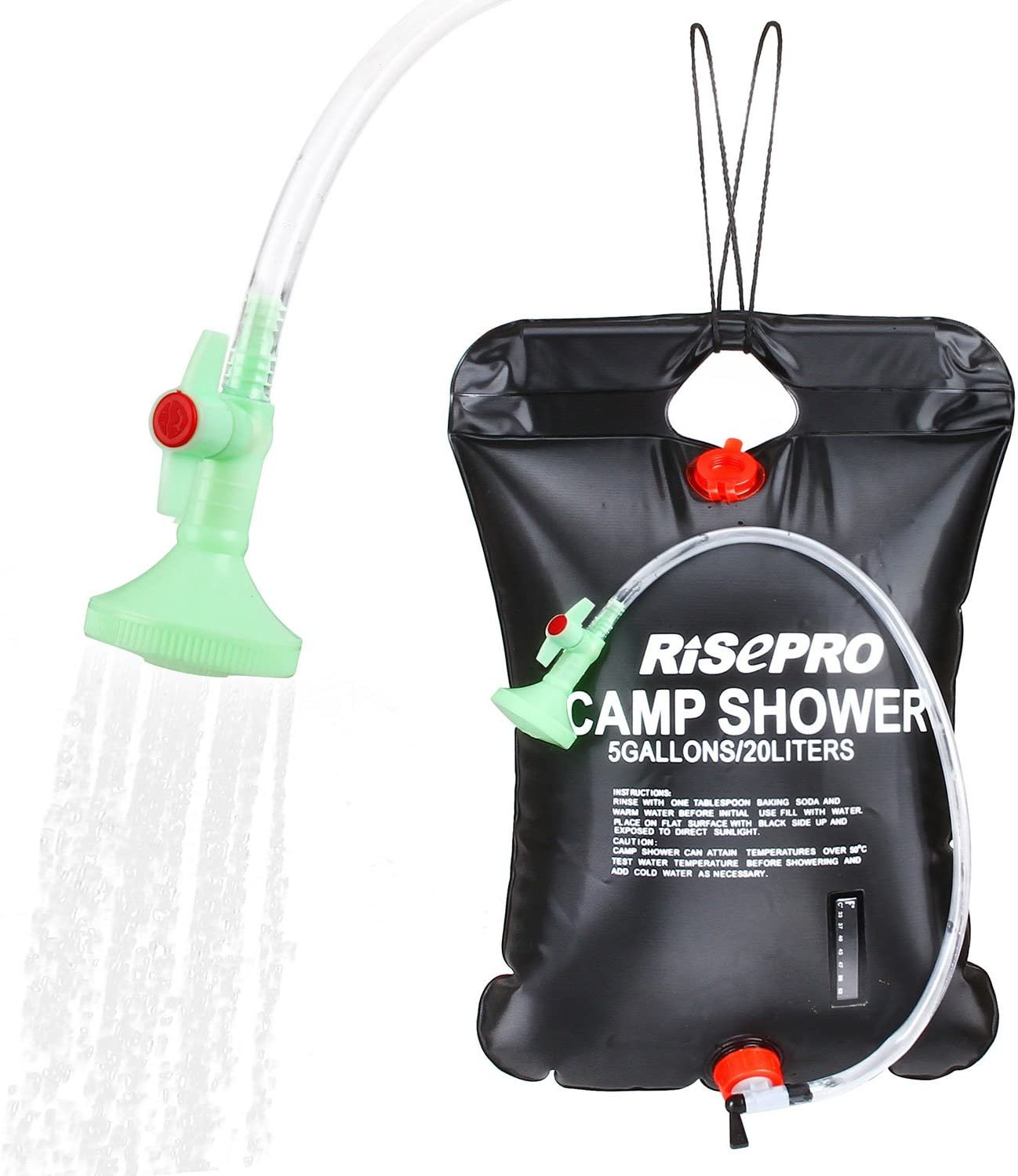 Source: Amazon
So the surf called you, that hike ended up a sweaty affair, or your Wild Kid took mud bathing to a whole new level and… oh dear, very few campervans have space for their own shower. This can limit where you choose to camp up, being restricted to bigger sites that provide a shower, but come with the associated issues of, well, people. Campsite showers are rarely pleasurable experiences and can, quite literally, put a real dampener on your experience.
A solution is to choose a portable or dedicate campervan shower. That way, you've got your facilities with you, wherever you are. What's more, choose a solar-powered option and it won't be a case of bracing the cold either.
You've got height and gravity in your favour. Make sure you can mount your shower on the top of the can and you can have gloriously al fresco showers. In fact, there's something simply amazing about enjoying an outdoor shower with a beautiful natural backdrop. It's so amazing that people go to 5* hotels for this. You can have it on the side of your van.
5. Hang tight for hangers
Source: The Leisure Outlet
Does your other half laugh at your crazy riggings of guy ropes and pegs so that you can hang up everything from tea towels to swim suits? Getting everything dry, and keeping it off the ground, can become an exercise in campground Cat's Cradle.
But, seriously, it doesn't need to be that hard! All you actually need are some hanging rails which affix to the outside of your van. According to the make, they work slightly differently, but they make drying things easy whilst ensuring your camp zone doesn't require ninja-like skills of navigation.
It takes a while to get the right number for your van lifestyle, but once you've done it, you'll be mighty grateful, especially if it means no more tripping over a guy-rope-come-washing-line.
6. Light is bright
Source: Jake Stone on Unsplash
Rock up to an unpowered camp and lighting can be a problem. You're probably all set inside the van, but what about once you step outside? Whether you need to navigate your way to a bush that's going to preserve your dignity, julienne some carrots for dinner without julienning your finger, or pick that splinter out of your palm, you're going to need some portable lighting.
Battery operated LED lamps are usually the most versatile and come in a huge range. They offer excellent brightness for their size. We love ones which can hang on the outside of the van, or in your awning. Add a few torches to your accessories stash too. And for a super heart-warming feel to your camp, choose some solar-powered fairy lights.
7. Chill out with a campervan fridge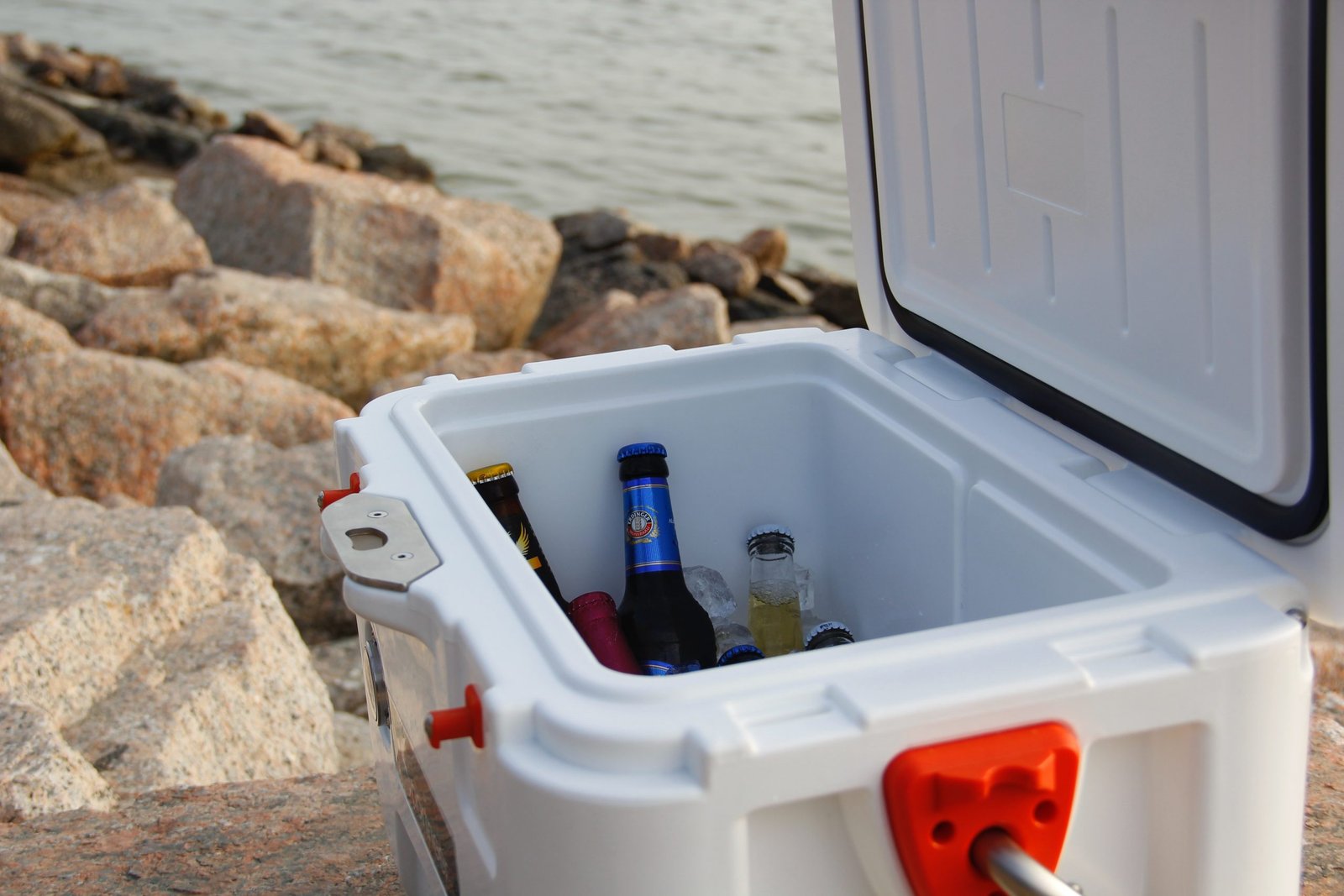 Source: Sandrene Zhang on Unsplash
There's a whole heap of choice when it comes to campervan and portable fridges. They make sunny days awesome; being able to reach for a cool can of ready-made Pimms or beer. Chilled crisp white wine will elevate your evenings under the stars too. You'll become the most envied people in sight.
Fridges for campervans either plug in and run off the van, or you can also get solar powered ones. Which you choose will depend on where you are and what you're demanding off it! Built in ones will enable you to make much more effective use of space.
Portable fridge's can take up a shed load of room which you might be short of. Campervan fridges are also often one of your most expensive accessories, so make sure your insurance is top-notch. But when you've got cold milk on your morning cereal, life's good.
8. Fire up the BBQ
Source: Daan Stevens on Unsplash
From a simple grilling rack for the fire pit, to a full blown portable BBQ, being able to pitch camp and cook up a storm over a proper fire is a must-have for anyone living the van life. You can't beat the smoky outdoor taste of delicious fare griddled on a barbecue. It's the taste of summer alongside your van, and perfect for warming you all up if it's an autumnal night with a nip in the air.
What's more, as far as accessories for campervans go, this one boosts your limited stove-top capacity. Gas, coal, or a simple rack to add to a fire pit is your choice.
So will it be lemon and garlic veggies? Or are you after that seared steak? Or a traditionalist who's just after the bangers? Whatever you choose to BBQ, don't forget the tongs!
9. Weave in the Wi-Fi
Source: Frederik Lipfert on Unsplash
Yes, there are times when jumping in your campervan and hitting the road is all about unplugging from your device-dominated life. But there's also something sublimely beautiful about snuggling up with your camp companion and embarking on Netflix and Chill.
You also need Wi-Fi if you're gonna make your mates insanely jealous with your travel snaps. Uploading them to social media loses its charm if you have to climb a tree to do it. Or you may need it for the practical purpose of planning your next route stage, so you don't get lost again, or making some bookings because the 10% discount always only applies if you book online. Of course, if your campervan has become your workspace, you probably need a reliable connection too.
Pocket Wi-Fi with a small and portable wireless device or dongle allows you to hook up with Wi-Fi via your mobile.
10. Level-up to a good night's sleep
Source: Amazon
Let's be honest, not every pitch leads to a good night's sleep. Being squashed as your other half rolls against you and wedges you up against cold metal ain't much fun. Furthermore, if your sink doesn't drain, it can all get a bit nasty. Hunting the vicinity of the van for suitable rocks or just a flat patch can get a bit tiresome.
If you do more with your campervan than merely go to ready-made-nice-and-level grassy sites, then one of the most best campervan accessories will be levelling ramps. Roaming and pitching up in legal but out of the way spots means levelling ramps are the solution to geographical landscaping issues. Choose ones which are the right size for your vehicle and designed for its weight including the contents and you!
You'll find they offer you more freedom about where you can camp.
11. Cuddle up with cushions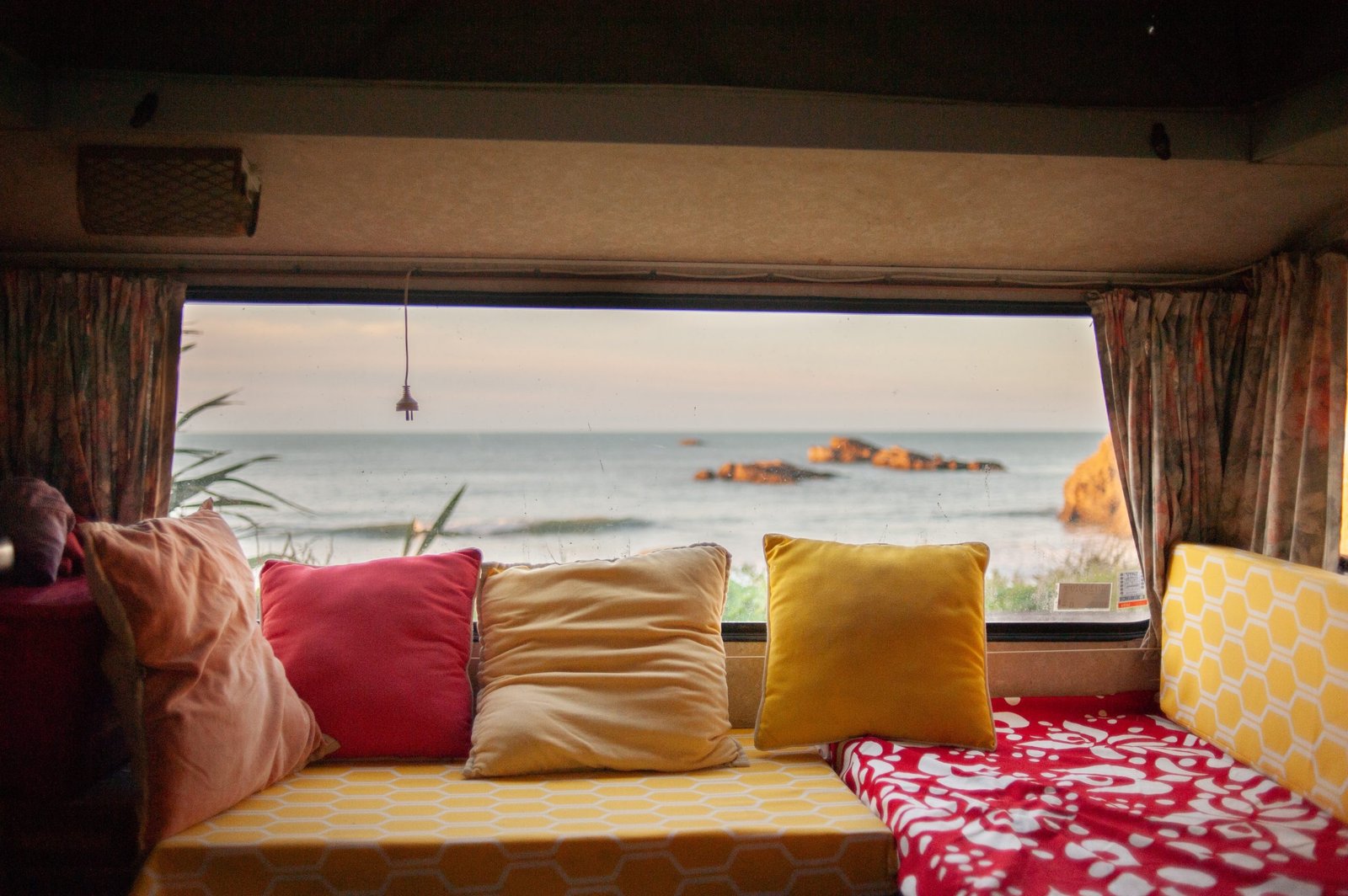 Source: Delphine Ducaruge on Unsplash
Awesome for their comfort-versus-weight ratio, and super easy to chuck in the van, is a humble stash of cushions. Big ones, small ones, just make sure you've got lots of them. Use ones with washable covers and you won't mind when they inevitably end up picking up the dirt of your travels.
Lots of cushions in your campervan make it all about luxury. It is how you make your campervan a real home-from-home on the road; a cosy den of happiness. We love a mish-mash of designs, which eclectically work together. However, maybe you prefer channelling your inner interior designer and choosing ones which match your van theme?
12. Pull down the right blinds
Source: Johanna Persson on Unsplash
Those cutesy curtains may look gorgeous but do they do anything to stop you being fried out of your van from your blissful slumber thanks to the burning sun of a summer dawn? Or do they help to keep you toasty when the temperature dips and you're fighting frostbite and the moment when you have to get out from under the covers?
No, thought not. Thermal blinds are your solution. In summer they keep the heat of the sun out, and in winter they keep the warmth in. It's all about temperature regulation which is a tricky thing to handle in the van. They can extend the length of the seasons you're happy to head out in the van too.
You can get all sorts of different thermal blinds for campervans. From simple suction-fixing blinds to ones you build in, the choice is yours. We definitely recommend having one for the front windscreen at least.
And shh, if you've got a mould problem in your campervan, thermal blinds will help condensation down which will help. We won't tell anyone.
13. Top of the morning to comfy sleep
Source: Camping Toppers
Most camper aficionados rely on simple foam mattresses. They are light and they do the trick. All's good. Of course, many are fully integral to the seating too, so there are limits to how you can change them. But for many, they aren't the most comfortable if you're sleeping on them for more than a night or two. You don't need to ditch the foam entirely, just get mattress toppers.
Even better, if you fancy a night under the stars, or want to sunbathe in comfort, then your mattress topper can be moved out of the van when you need it. Choose ones which squash up small, unless your bed is able to stay out whilst travelling.
14. Swing by in a hammock
Source: Heather Mount on Unsplash
Frankly, camp life and hammock life go hand in hand. You just can't beat the feel of kicking back in your hammock once you've pitched camp. It's the stuff that travel dreams are made of.
Hammocks don't take up much room at all, and neither do the good book and the sunglasses to go with them. Just thank us for adding it to your list of accessories when you're gently swinging back and forth in a summer breeze taking in the view.
Be warned though: from now on you'll always be looking for places to camp with perfectly spaced trees. It's a tough job, but someone's got to do it.
15. Van Foodies
Source: Myles Tan on Unsplash
Let's be honest: cooking in the van can be either an incredible, mindful and tasty experience, or downright disastrous. It's not just about your culinary skills and the ability to pick up fantastic ingredients on your travels. It's also down to having the right kitchen equipment.
A core part of making sure you have all of the accessories you need for your campervan means having everything you need for a fully-stocked kitchen. You need pots, pans, stirrers, knives, kettle and whatever else floats your culinary boat.
Choose compact options but always make sure you know where the items can be stored and secured safely. There are loads of hacks out there, such as fixing jar lids to the underside of shelves and then screwing the jar on from underneath. And hooks are your friend, dear campervan-lover, hooks are your friend.
The contents of your campervan
All of the above best campervan accessories will improve your life in the van no end. However, don't forget that your campervan contents are valuable, as well as your van itself. You don't want to be heartbroken if you're unable to replace the contents following theft or damage.
Self build campervan insurance policies allow you to cover things like internal fixed features and accessories, which are perhaps harder to 'price-up' in insurance terms. But whenever you choose new campervan insurance, always may sure it covers the contents too. This will ensure that all your gadgets, valuables and accessories are covered, should there be a problem.