Travel to the Future: 10 Best Electric Campervan Models
Behold the wonder of an electric campervan! As drivers are encouraged to be more climate-conscious, and vehicle manufacturers strive to meet emissions targets, an increasing number of cars on our road are hybrid or electric vehicles.
The goal in the UK is to ban the sale of new petrol and diesel-powered vehicles by 2035.
Options for zero emissions driving are already increasing dramatically. Electric campervans can give you the freedom to travel without damaging the planet, so every trip can be guilt-free and you can avoid extra charges in low emissions zones.
Here are the 10 best electric campervan models available today: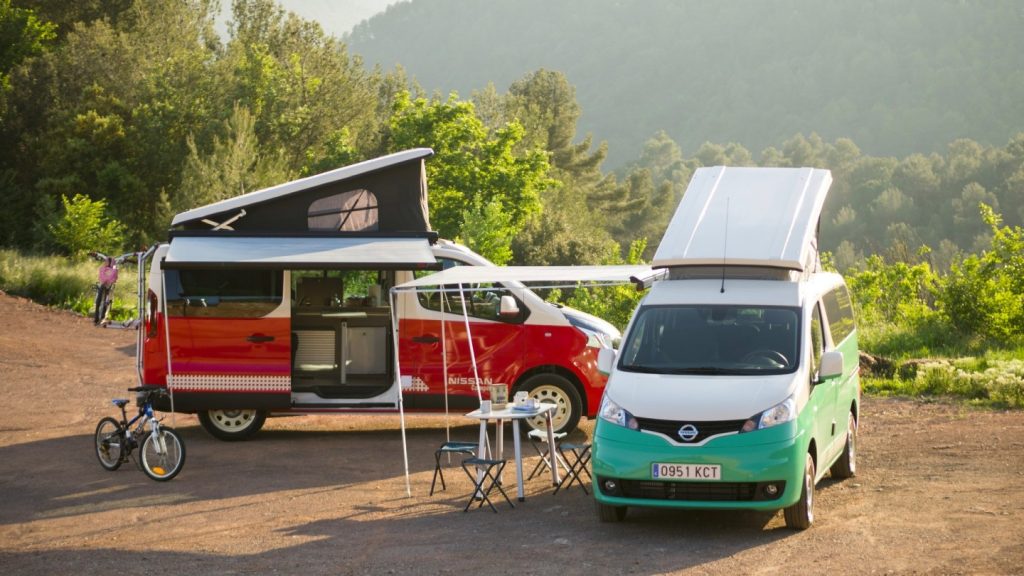 Source: New Atlas
Volkswagen ID.Buzz
Source: Volkswagen
The classic VW camper has always been a favourite. Now, with the ID.Buzz, you'll get something similar to the classic look with an all-electric vehicle experience.
The Volkswagen ID.Buzz is based loosely on the enduring VW design. It looks like the VW camper that you already know and love, but designed for the modern world and upgraded in several big ways.
Though it's not available to buy just yet, the ID.Buzz should be available to purchase by 2023. This futuristic vehicle features a comfortable interior, video screens and space for an adult of average height to stand in the back.
Nissan NV300
Source: Carscoops 
Already available to buy, the Nissan NV300 is a mid-sized commercial van that's a popular choice for conversion. This electric van provides ample space for comfortable camping, along with the latest NissanConnect technology.
Though the Nissan NV300 is designed for commercial use, many campervan conversion companies are already rating it highly. Adding a pop top turns this Nissan van into one of the best electric campervans.
Dalbury E
Source: Fuelincluded
Another Nissan vehicle, the Dalbury E is a compact electric campervan that's based on the NV300's smaller cousin, the Nissan NV200. Despite its small size there's still plenty of room to prepare food, eat food and sleep. The passenger seats swivel around to create a comfortable bed, whilst the battery can be charged quickly up to 80% in half an hour.
Mercedes eSprinter
Source: Autoexpress
An electric panel van that can easily be converted into a home away from home, the eSprinter is a large van with fast charging functionality. Like the Dalbury E, it can be charged up to 80% in 30 minutes.
Currently, this electric campervan could travel almost 100 miles per charge at a push. It's not enough to tour the country, but great for a short break or local getaway. Of course, the range of this electric campervan will depend on how much you put inside it.
Ford E-Transit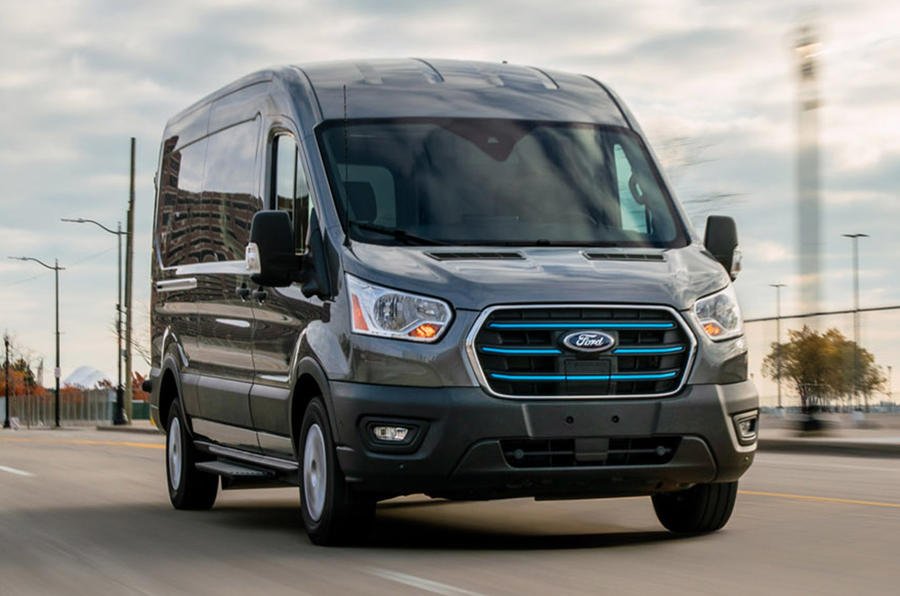 Source: Autocar
Another long-term favourite, the Ford Transit can now be a spacious electric campervan. The Ford E-Transit is released for sale in 2022, with an impressive electric-only range of more than 200 miles. The van comes equipped, in its original form, with a 230-volt socket. It also includes an in-cab entertainment system with a large and colourful touchscreen.
Renault Kangoo Z.E.
Source: Autoexpress
If you're happy with very limited space, you could consider joining the many happy campers that drive a Renault Kangoo. Now available as an electric van, the Kangoo provides enough space for sleeping and storing the basics. People have always loved Renault Kangoo campervans as they can easily be used as an everyday vehicle. The electric Kangoo Z.E. is no exception, with a battery that fully charges from flat in six hours.
Citroën ë-Berlingo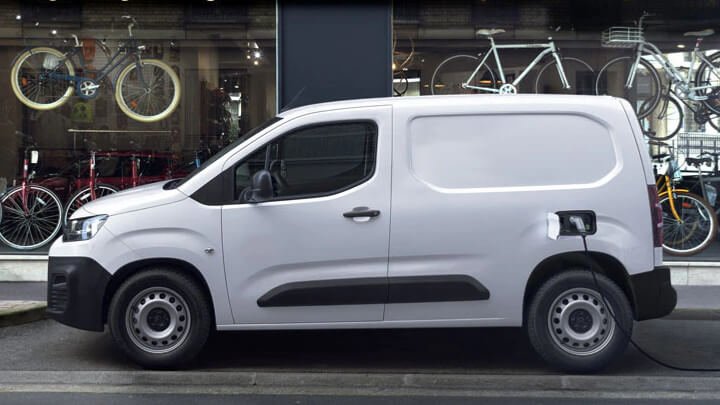 Source: Evans Halshaw
Another small electric van that can be converted into a cosy electric campervan, the Citroën ë-Berlingo was awarded 2019 International Van of the Year. This may not be the most exciting campervan, but it's a sturdy and reliable choice that combines comfort and functionality. Many campervan conversion companies have plenty of Berlingo experience, so you should have no trouble turning this van into somewhere comfortable to sleep.
Volkswagen e-Transporter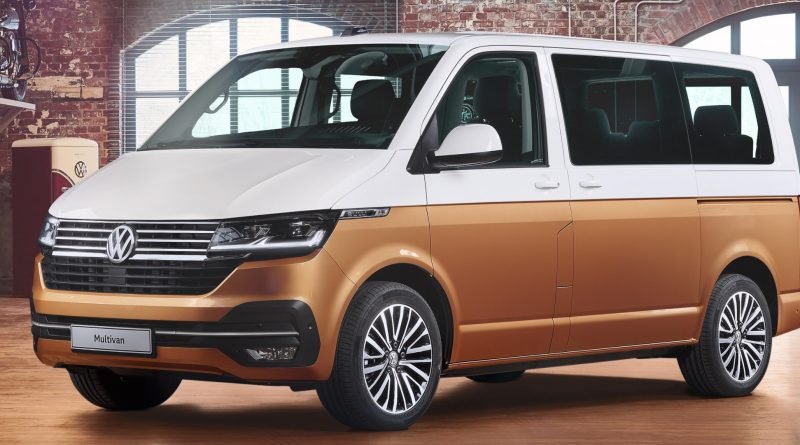 Source: Electric Van and Truck
Whilst the all-electric ID.Buzz is similar to the classic VW campervan, the Volkwagen e-Transporter is another favourite for electric campervan enthusiasts. The Volkswagen Transporter has long been a popular van for campervan conversions, and though it doesn't have that classic VW camper look it's got plenty of space and great features. The electric version is very similar to the non-electric Transporter, so you'll still get the same great overall aesthetic and room for all your belongings.
Vauxhall Combo-e
Source: Autoexpress
Vauxhall's small electric van, the Combo-e is a great choice for campervan conversions. Space is tight, so you'll need to pack light, but this reliable van can be used day-to-day and enjoyed when you're at home or elsewhere. It has a driving range of more than 150 miles, with plenty of power for motorway driving when you want to get away for the weekend.
Peugeot e-Traveller
Source: Autoexpress
Peugeot's e-Traveller is a spacious electric van that's ready for campervan conversion. Remove the seats from this electric MPV and you've got an electric campervan complete with large windows, great interior space and a range of almost 150 miles when optimised. This vehicle has excellent handling, so it can take on the bumpy mountain roads just as easily as it handles cities.
Should you get an electric campervan?
Still something of a novelty, electric campervans certainly aren't for everyone. The technology is still relatively new, though it should develop at speed in the coming few years.
You're unlikely to be able to drive more than 100 miles without stopping for a break, but if you're happy to stop overnight at service stations then there's no reason why you can't use an electric campervan for a tour of Europe! Just plan your routes carefully, making sure that you're never too far from a charging point.
Some electric campervans are ready to go, with everything you need already installed. But, in most cases, you'll need to start your own campervan conversion project. It's extremely unlikely that you'll find a used electric campervan already, so be prepared to pay for a new vehicle as well as having a budget for conversion.