15 Campervan Bed Ideas for Your Next Van
It's a feeling like no other: snuggling down into your campervan bed, feeling cosy, and embracing every aspect of life on the road. Your campervan bed needs to be comfort personified, as well as tough, compact and maximising use of space. In order to whet your appetite, we've scoured the web for our favourite 15 campervan bed ideas so that you can design your next one to be your best campervan bed ever.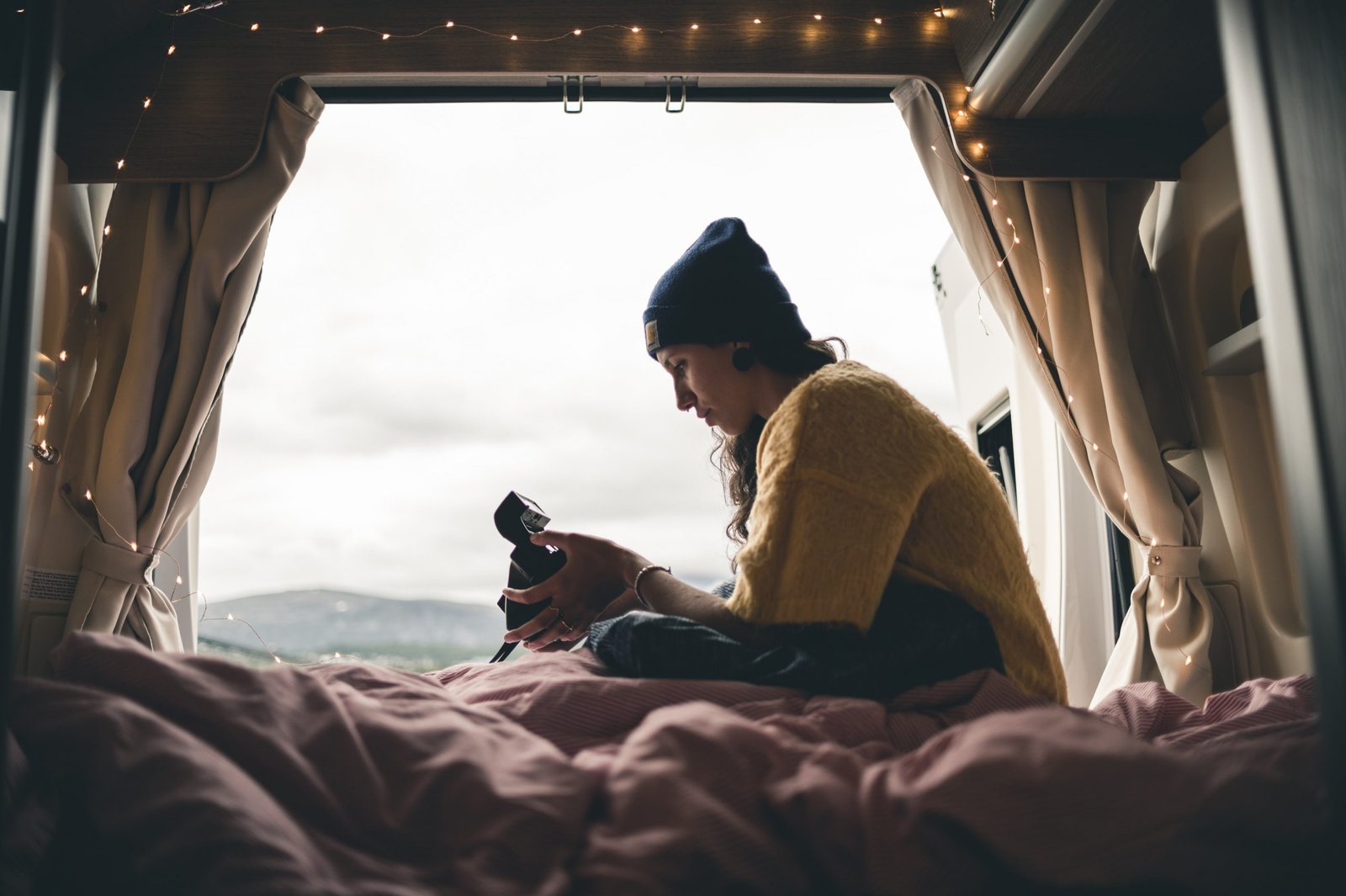 Source: Unsplash 
1. The Table Campervan Bed
Source: Unsplash
The table bed is a classic campervan option which is great for making the most of the van's space. You want two main things from your internal space: somewhere to sit and chill (and chow down when the weather is grim), and somewhere to sleep. With a bed-table arrangement, you ensure that you get the most space for both purposes. Effectively the table lowers down and becomes an extra section of the bed base along with the side benches.
2. The Roof Space Campervan Bed
Source: Unsplash
The iconic classic VW van arrangement is to pop up the roof and hop on up into the additional space created. Old-school but done for good reason, it's still a popular choice for making the most of van space.
Obviously, these beds require the right roofing and we strongly recommend that you use specialist conversion kits, rather than going entirely down the DIY route with this option. The last thing you want is a not-very-water-tight creation.
3. The Back-of-the-Van Platform Bed
Source: Unsplash
Increasingly popular, many van converters are building a platform right into the back of the van as a permanent sleeping zone. The beauty of this type of platform bed is that you can park up alongside incredible vistas and watch the sun set and the sun rise from the comfort of your bed – it's a truly magical campervan experience. And no one says you have to have the platform at all! Many campers just sling a comfy mattress in the back and are done with it!
4. The Storage Pro Bed
Source: Unsplash
With space at a premium, if you've got a larger van then you can get nifty by creating sliding storage under the platform style bed which draws out other furniture, such as the table and bench combination above. The trick is to create lock-and-secure systems which will ensure that everything stays in place whilst you're driving along.
5. The Bench Bed
Source: @vw_flora
Another classic campervan bed is the folding bench bed. If it's just you on your own hitting the road, then it serves as a single bed alone. Alternatively, the mattress-come-seat-cushions fold out to make enough room for a cosy duo.
6. The Block Bed
Source: @life.on.wheels_
For many, they will happily forgo a designated table area in the van for an absolutely divine and heavenly bed. Block beds are the best for taking a proper mattress, rather than a lightweight foam option. By building the base as a fixed block in the van, you can design other features around it such as shelving and storage. There's nothing stopping you creating storage underneath it either.
7. The Fold-Out Campervan Bed
Source: pinimg 
If you know that a night under the stars is just what you're after, and you're hitting the road in warm and reliable weather, than a fold down drawbridge-style bed, such as this one, enables you to have comfort and nature all in one hit.
8. The Bunk Bed
Source: Quirky Campers
This fabulous campervan bunkbed design on Quirky Campers shows how space can be gained by creating different bunks within the campervan. Each person gets their own sleeping spot and everyone's a happy camper.
9. The Suspended Campervan Bed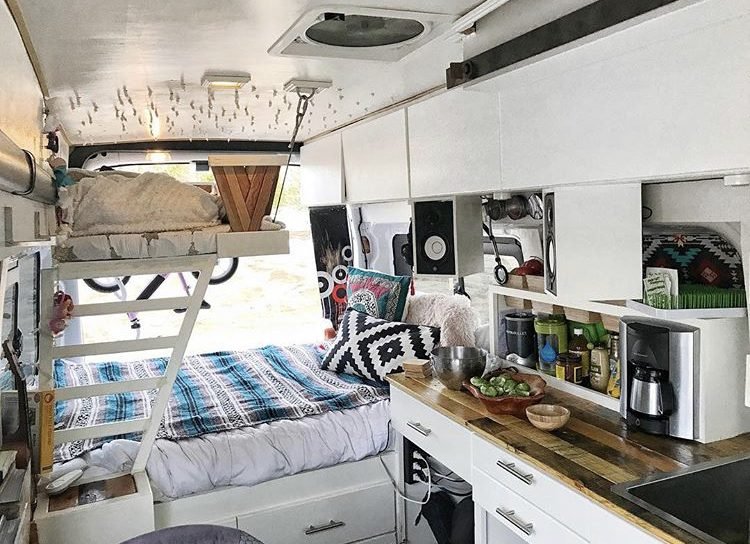 Source: Van Clan
An alternative to bunks as a way to layer-up the sleeping space in a campervan is to use a suspension system, as shown in this creative conversion on Van Clan. These beds work particularly well for children as they can be put to bed and settle down without being disturbed when Mum and Dad come to bed later.
10. The Section Pop-Up Campervan Bed
Source: @mannysvanny
It's retro, but it makes sense; an easy way to create a bed is to lay down an addition section between two benches on either side of the campervan. You'll need to stash the panel and you can probably use the back cushions from your bench to form a mattress that extends the full way across your van.
11. The Campervan Hammock
Source: @coolcampervans
Who says your bed needs to be on the inside?! We love this idea of mounting a hammock to the side of your van. That said, we've also seen many nomadic souls simply rig up their hammock within the van, if that's their preferred way of sleeping. You can also stash a hammock in very little space, making it easy for whipping out if you're in need of an extra berth.
12. The Campervan Lift Bed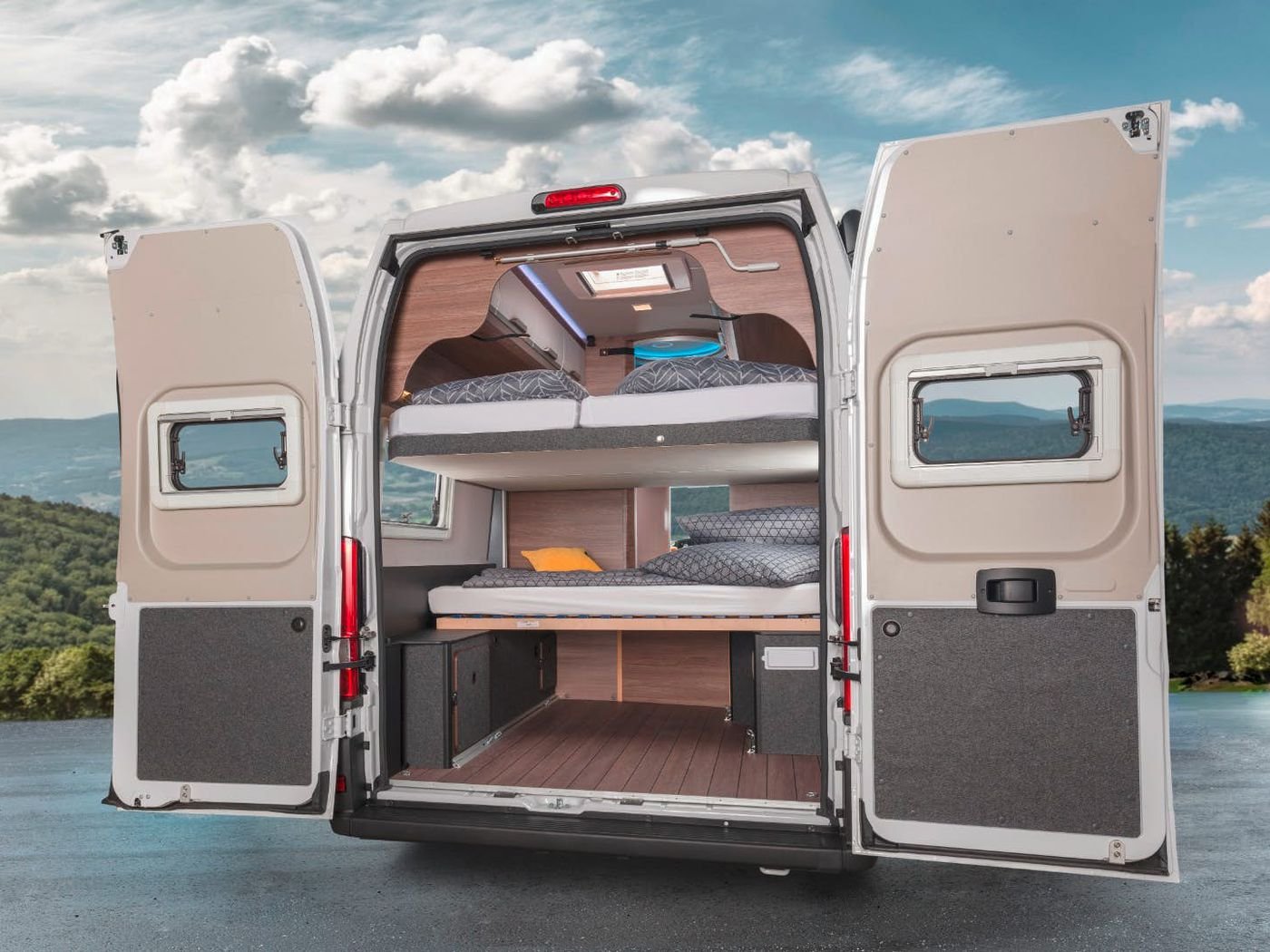 Source: Curbed
Bed platforms and mattresses on hoists or lifts mean that you can layer beds in the van for sleeping. However, when you hit the road, or you want more space in the van during the day, the bed is stashed away flat against the roof. It's a great way of adding in extra sleeping space without too much loss of space.
13. The Murphy Bed Wall Campervan Bed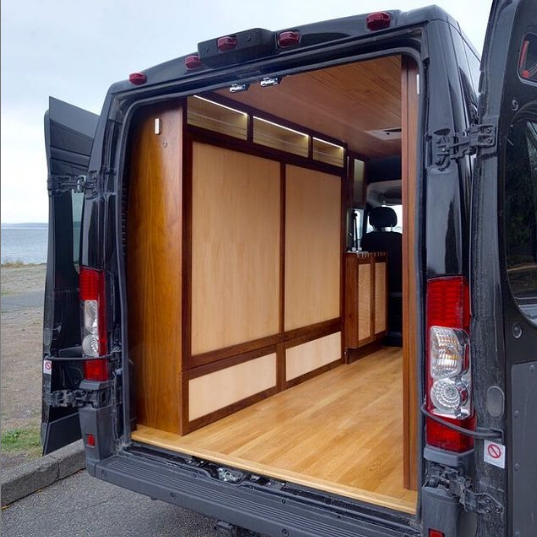 Source: @rydawell
It doesn't get much neater than this! With the right van, you can literally build the bed into the wall as a fold-down unit, like @rydawell has! This leaves tonnes of space for packing up your gear from getting from point A to point B without depriving you of full scale luxury when you get there!
14. Sliding Campervan Bed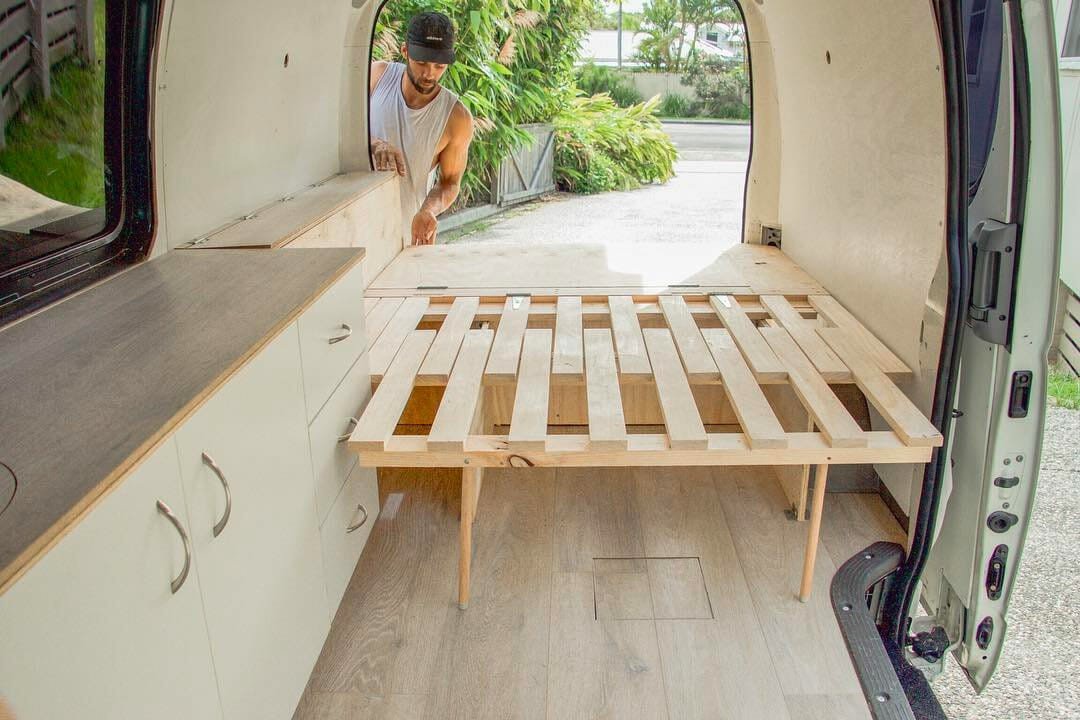 Source: @heytess_
Another classic design that requires clever joinery skills is a sliding bed. Two platforms nestle together to then extend, onto which you can then place a mattress. Roll out mattresses work best for these, but we've also seen them combined with inflatable options.
15. The No-Bed Campervan Bed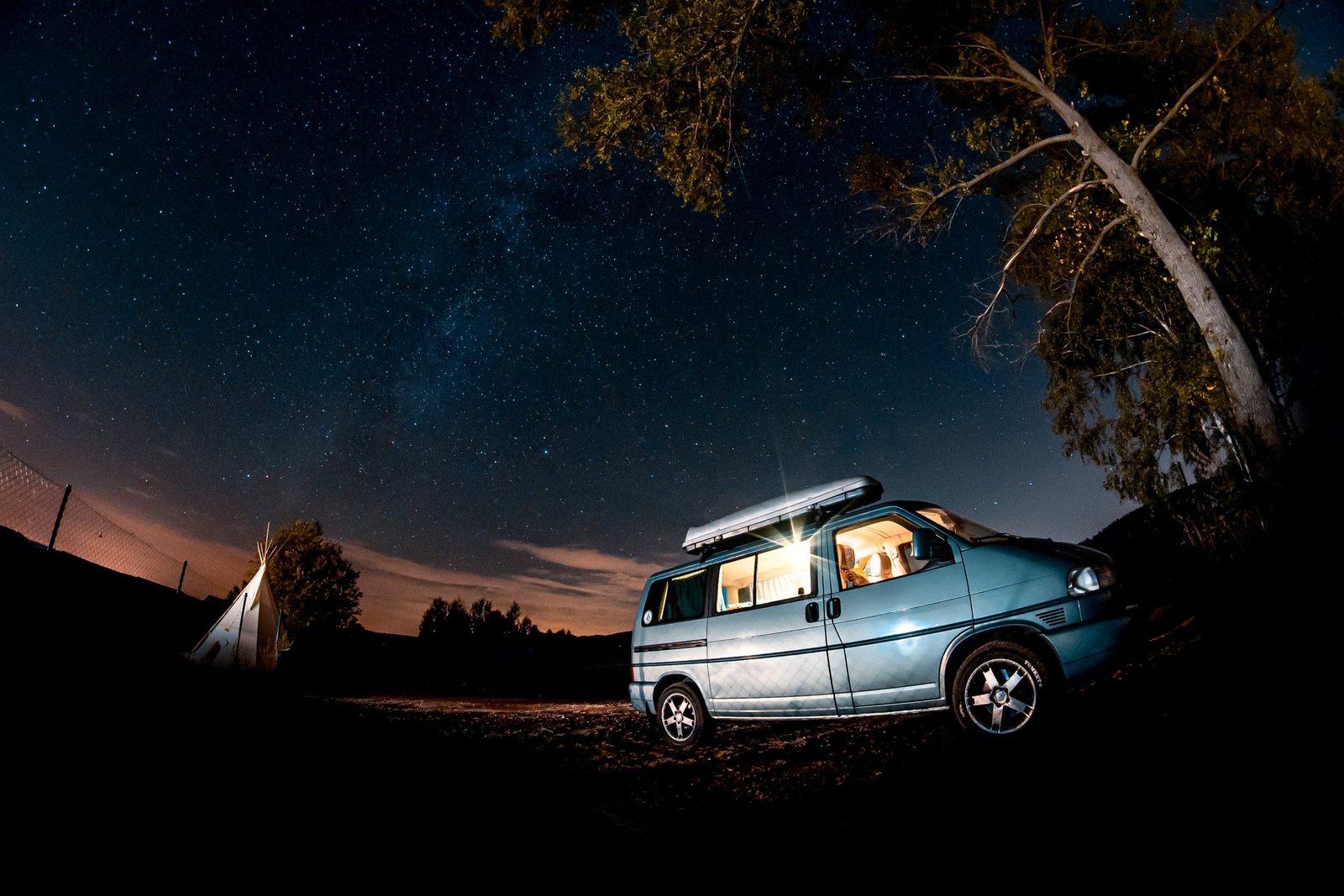 Source: Unsplash
There's no hard and fast rule that says you have to sleep in the van. Lots of camper enthusiasts opt to sleep outside the van so that the van space is left for other things. You've got a tonne of different options. From awnings with tent berth attachments, to a mattress popped up on the roof, sometimes the best decision is a no-bed one.
Remember that if you've converted your own campervan and made alterations, you need campervan conversion insurance to make sure that all your hard work and expense is covered.