Best Campervan Fridge Options for a Campervan Conversion
Whether you want to cut costs by preparing your own food, instead of relying on takeaways, or you'd simply love to wake and cook your own bacon for breakfast, a campervan fridge is a great choice for convenience and comfort.
Fridges can also be a medical essential, allowing you to safely store any medication that cannot be stored at room temperature.
Whatever your reason for wanting a fridge, find the right one is important.
Photo by Balkan Campers on Unsplash
What should you look for in a campervan fridge?
Before you choose a campervan fridge, there are several things to consider.
How will your fridge be powered?
Do you want a fridge that runs from a 12v power supply, plugged into your campervan's cigarette lighter, or one that needs to be connected to the EHU?
A fridge for a campervan with an electric hookup can run all day and night, with no risk of draining your battery, but it can't be used unless you're at a campsite with electric-ready pitches. A fridge that runs from your campervan's battery can be used from the moment you leave home, but don't expect it to keep your food cold overnight whilst your engine isn't running.
How much space do you have available?
Where will you store your fridge? Any fridge for campervan use will need to be relatively small, but some campervan conversions have a lot less space than others. Make sure that your chosen campervan fridge can fit into the space you have available.
How much will you use the fridge?
If you won't use your campervan fridge very often, a simple powered cool box could be enough to keep your food and drinks chilled. If you'll be using your fridge all the time, you'll need something a lot more sturdy and designed for long-term use.
How much are you willing to pay?
Campervan fridge prices can vary dramatically. A simple cool box could set you back less than £20, but a campervan fridge that's properly fitted could cost more than £2,000 to buy. A larger investment is often worthwhile, but if you're trying to keep your conversion budget low then you might not want to buy a three-way fridge.
Best Campervan Fridge Options
Though there are many options to consider when you want a fridge for campervan conversions, here are some of the best and most readily available:
Best for Occasional Use: Powered Cool Box

Source: Go Outdoors 
A basic cool box acts as a 12v campervan fridge. It can be powered by plugging it directly into the cigarette lighter. Running these fridges from leisure batteries would drain your power very quickly.
You could use a powered cool box to keep things cold whilst driving from one site to another, but everything within will quickly warm up once your campervan engine is switched off.
Powered cool boxes are cheap and easy to find. They're also very portable, so you could move the cool box if you want to keep it close to the campfire.
An alternative to an electric cool box is a mini fridge, but these are typically only big enough for a few 330ml cans.
Best for Frequent Use: Campervan Compressor Fridge
Source: Leisure Outlet
Compressor fridges typically use very little power. These are 12v campervan fridges that can be powered from the cigarette lighter or a more permanent fixture. Unlike powered cool boxes, these can be a permanent fixture in your campervan – they look a lot better and they're not designed to be portable in the same way.
You might run a campervan compressor fridge from a battery pack, power bank or a solar panel. Compressor fridges come in all different sizes, and are usually dual voltage so you can take advantage of electric hookups when they're available. Incredibly versatile, they can be used on the go and when you're settled at a campsite.
Compressor fridges are easy to install and don't require special ventilation, so you don't need to worry too much about fitting them absolutely perfectly.
Best for Essential Medications: Absorption Fridge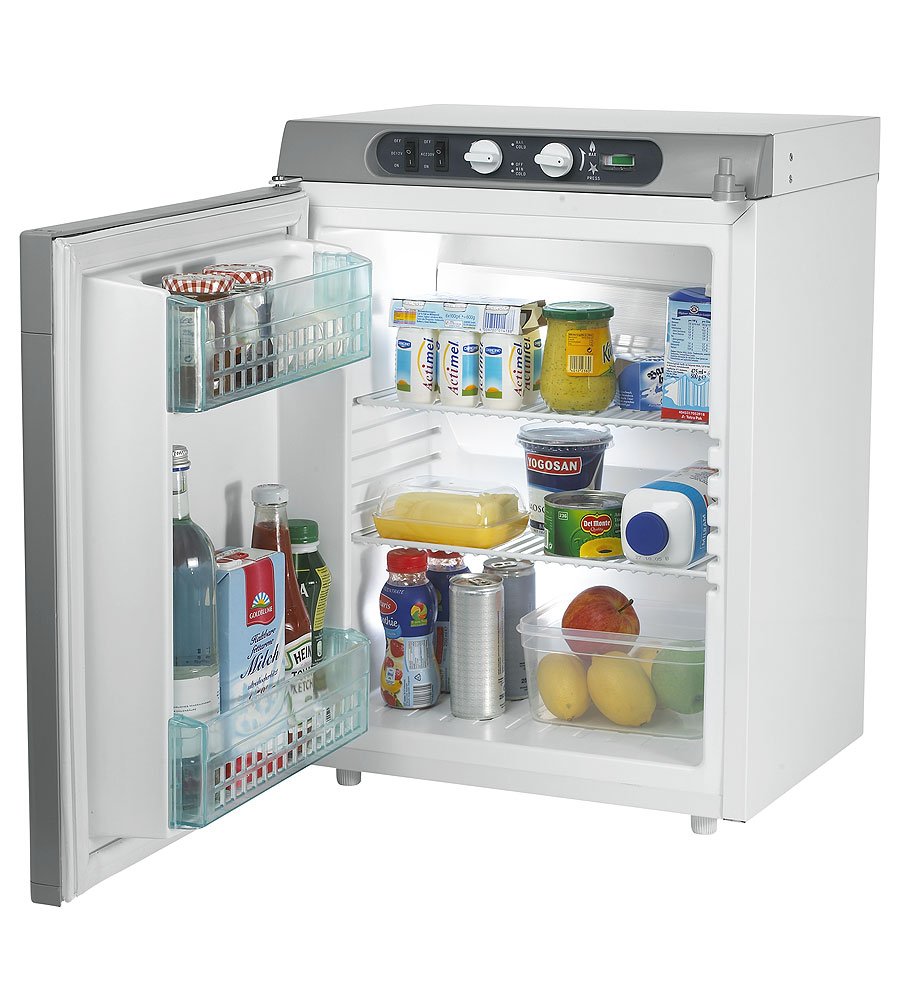 Source: Compass 24
More like the fridge you have at home, your typical absorption fridge is designed to be a permanent campervan fixture. They need to be properly installed and kept level, but can be as large as your fridge at home if your campervan has the space available.
Absorption fridges usually run with a variety of power options – 12v, 240v or using LPG gas. This makes absorption fridges a very reliable option, because they can be used on the go or at a campsite with whatever fuel you have available. If you want to be sure that you can really trust your fridge to keep running no matter where you are, the extra cost and effort to install an absorption fridge is something that will really pay off.
Be aware that absorption fridges require good ventilation, so you'll need a way for the expelled warm air to be removed from the campervan efficiently.
Can I use a normal household fridge?
Though there's technically nothing to stop you from using a normal household fridge in your campervan, there are several drawbacks that you'll want to consider.
First, household fridges are not designed to fit into very small spaces. It can be hard to find a household fridge that fits into your campervan conversion, and even if you find a suitable fridge the space is unlikely to be maximised.
Next, be aware that a standard household fridge will only run on 240v – whilst campervan fridges can be connected to cigarette lighters or leisure batteries, a household fridge will only work when you're at a site with electric hookup.
Finally, consider that household fridges are designed to stay still and be static. They're simply not made to ride the bumpy roads that your campervan is likely to go down. There's a higher risk of a household fridge breaking, or being victim to wear and tear damage.
Ideally, keep the household fridge at home and choose something that's designed for a campervan. Your campervan conversion, however ambitious, will benefit from a decent fridge.