Small but Perfect: 14 Small Camper Van Interior Ideas
There are lots of mighty fine reasons for choosing a smaller camper van. It's the best way to ensure you can take it anywhere, park up with ease and compact living is cosy, comfortable and just perfect.
But to make the most of the space, you need to be clued up with small camper van interior ideas. You need to know how to create storage out of beds, and showers out of doors.
Don't worry; we've got you covered with the best small camper van interior ideas. From stylistic themes to clever hacks, read on for the bijou inspiration you're looking for.
Small camper van interior ideas to get excited about
1. Swivel your seats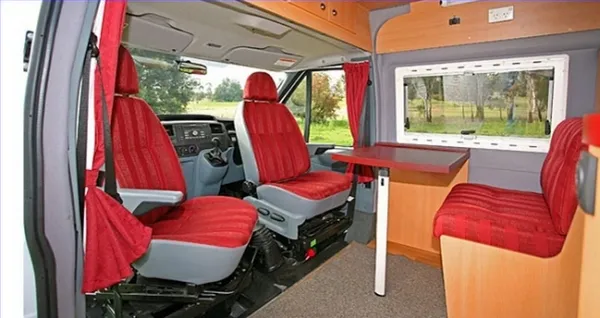 Rotating seats that can be positioned for life on the road, or swivelled to create a living area, are ideal for small camper vans. One of the simplest changes to convert a small van for camp life is replacing standard seats with those on a swivel base.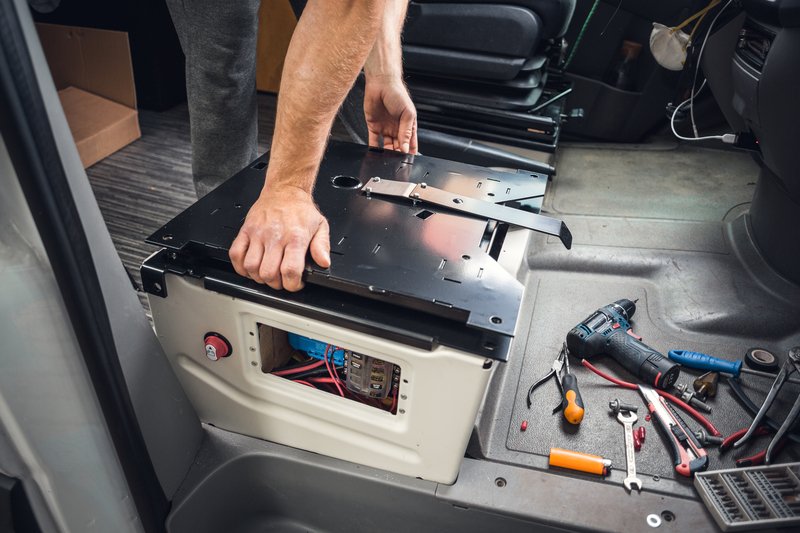 Everyone is securely positioned for traveling from A to B, but when you arrive at your destination, the front seats swivel to face into the centre of the van. This means there's more living space and no need to take up valuable room with extra seating.
2. Go bright, go happy
Choose a décor theme that is bright and airy and it will make small camper van stylish, airy and seem as spacious as possible. We've seen beautiful bright sunshine designs, cool retro vibes and beach hut characters. Soothing neutrals work well too. Make it your own but keep the décor consistent and you'll create a wonderful compact space that oozes style.
3. Get savvy with storage
From stashing the beach gear to bringing along all kitchen utensils (including the kitchen sink), you need to get savvy with your storage. Clip on storage nets, fold down shelves, and storage inside the bed base are all must-dos.
Check out these genius small camper van storage ideas.
4. Go up for space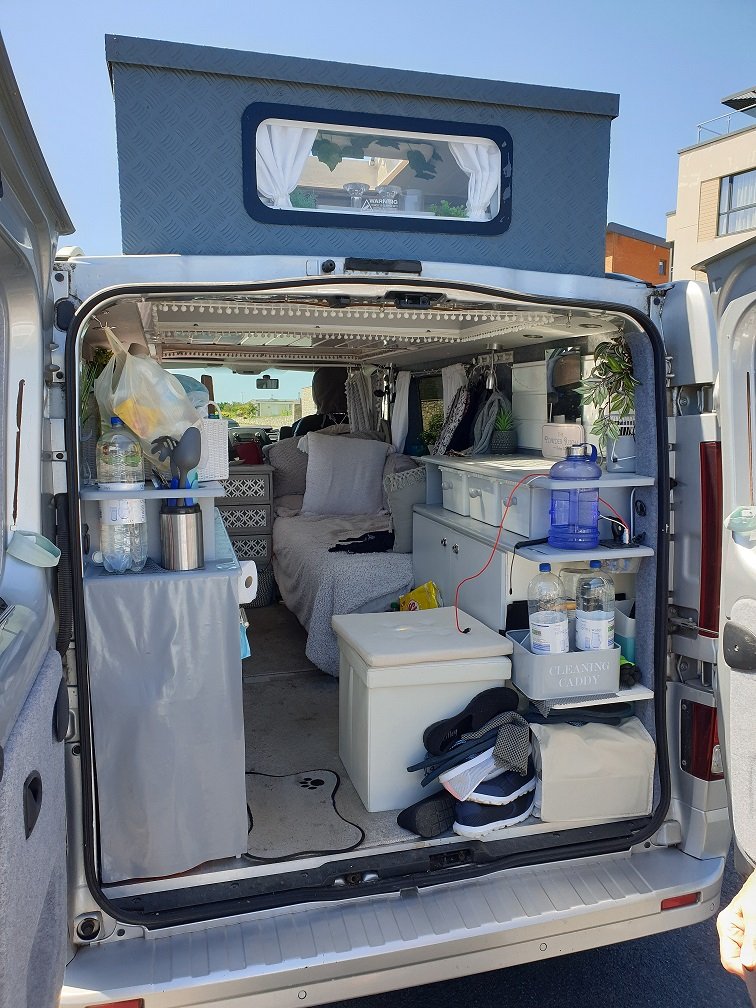 In camper vans, a lot of space is all about illusions. You don't gain any extra floor space by adding a pop-top but you do create head room. All of a sudden, you can stand in the van, or create a mezzanine level, or bunks. Without changing the footprint, you create a more workable and flexible space.
5. Go out for extras
Awnings and extra tents for when you pitch up are an excellent way of making sure your small van packs a punch for campsite space. There are other clever ways of going 'out' to maximise your space too. Pull out kitchen units are one of the best small camper van interior ideas, as are camper van showers that attach to the exterior of the vehicle.
6. Sleep well
At the end of the day, it's your bed that takes up the most space in a camper van. When considering small camper van interior ideas, always come back to the bed. For example, can you put in bunk beds, use a fold out bench, or create a mezzanine level? Under the mattress, within the frame of the bed, you can create storage for bedding or bikes, clothes and computers. You just need to get creative with your planning.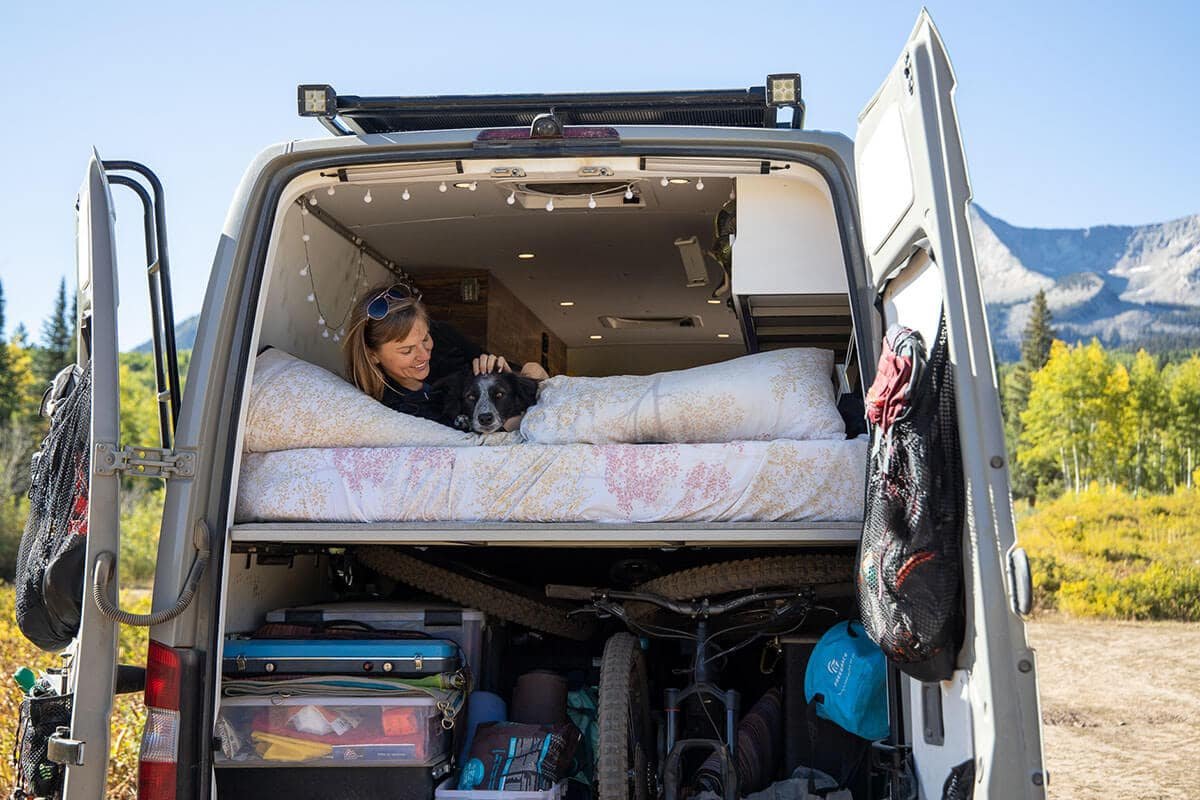 7. Hang on those doors
It's easy to overlook doors when planning the interior of your campervan. However, the inside of doors becomes a really valuable ad hoc space, simply by adding of the odd hook or holder. All of a sudden you've got somewhere to hang your jeans at the end of the day or keep your contact lens case from getting lost. You can even use them to create a campervan shower!
8. Fold it down
The humble hinge is a small camper van's secret weapon. Create fold down tables, seats, desks and shelves and hey presto, you gain versatility with your accommodation. By choosing fold down additions, things can be away when they are not in use. The table can come down between bench seats for dining or a game of cards and then disappear from view to turn those bench seats into a bed.
9. Think about what you want
When it comes to small camper van interior ideas the trick is to know how you live on the road. If you know that you always favour sites with toilet and shower blocks, why waste precious space by squeezing in a toilet and shower cubicle? However, if it's important to you, you can dedicate the space with confidence. Similarly, if you know that you always end up sat around a camp fire or down the pub for dinner, then don't hand over a chunk of your interior space to a cumbersome table or kitchenette. Know your van self and plan your interior accordingly.
10. Get clever with your cooking facilities
There are numerous ways to create extra space with the kitchen part of your camper. You can ensure the hob and sink have built in covers that double as chopping boards, for example. Your sink can double as kitchen utensil storage until you get to your destination too. Perhaps you can use a standalone stove that can be moved out into the awning when you're onsite or you could have a slide out kitchen like this one below? We really like this idea, however, with the weather in the UK not always being dry and sunny, it could be a little risky, especially in April! However, you could create a cover using an awning or attachable tent.
11. Glorious gadgets
Don't forget the tech when you're thinking about small camper van interior ideas. All too often this is overlooked and the camper van in reality becomes a messy jumble of wires and devices. Instead, build in a tech station where power comes in and all chargers are located and devices can be stored safely. Choose tech that doubles up too. An iPad can be used as a TV for cosy evenings cuddling up and as a way to send emails for the digital nomad.
12. Multi-tasking soft furnishings
Get crafty with your soft furnishings and they can double-up their purpose. Use square cushions to relax with by day, which then become pillows by night. Use a rug to cover your seat that can be used for an extension of the van outdoors. Choose Turkish Hamman style towels that can be used as screens, blankets and more.
13. Go minimalist
One of the real pleasures of a small camper van is that you are forced to embrace minimalism. You don't need half of the creature comforts that you think you do. You can still have a warm, comfy and cosy space, without all the paraphernalia you're led to believe you need. Go minimal with your interior design and furnishings and enjoy how freeing it is.
14. Be flexible
What you need in the van in winter differs from what you need in the summer. Create a flexible interior (and packing list) that can be swapped in and out according to what you really need. In winter make sure you've got the hot water bottles and extra blankets, but ditch them in favour of beach gear when you take the van out in summer. Leave at home what you don't need.
Follow our small camper van buying guide and then have lots of fun with our small camper van interior ideas. Your small camper van can be everything you want it to be.