10 Transit Connect Camper Van Ideas for Your Conversion

Source: youtube
The Ford Transit Connect makes for a fabulous camper. It's small but boxy, giving enough room to comfortably make a conversion for two. Built on a Ford Focus platform, the Transit Connect camper is a bijou, compact home on wheels.
A Ford Transit Connect camper also tends to get excellent miles per gallon and, being Ford, you won't have problems finding affordable spare parts, or experienced garages to help you out if needs be. It's a comfy and easy drive with excellent manoeuvrability. Both the short wheelbase and the long wheelbase make it great for driving and parking in towns as well as rocking up at a spacious pitch.
To help you with your conversion to create a Transit Connect Camper, we've got 9 conversion ideas to whet your appetite.
1.     The bench-bed slide
With a Transit Connect camper, space is at a premium. As such, you need space that is versatile and changeable according to what you need. At a bare minimum, this means having daytime seating that doubles up as night time sleeping. A bench seat which slides out to create a full bed base is ideal. During the day, the bench is made up of two mattresses, for bums and backs, leaving room in the centre of the van for moving around. Come night time, the base of the bench slides out, the two mattresses now go side by side, and you've got a comfy double bed with plenty of room.
2.     The built-in kitchenette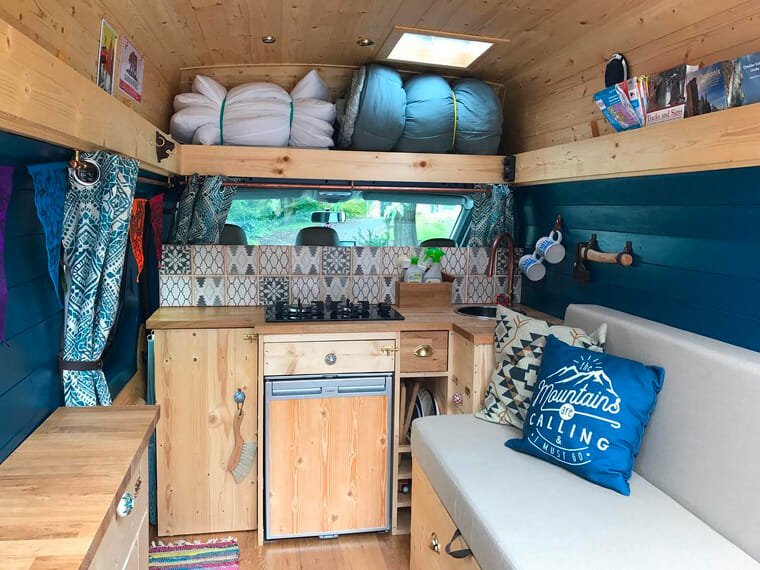 Source: Parkedinparadise 
Think there's no room for a kitchen area in a Transit Connect camper? You're wrong! There's always room, with a little careful configuration. Build the kitchenette into the side of the camper, taking care to choose slim fittings. A two-burner hob is ideal, and positioning it near the back of the van ensures safety with the open doors. What's more, with this design, you can pick up the camp oven and move it outside if you wish.
3.     Nifty and secure shelving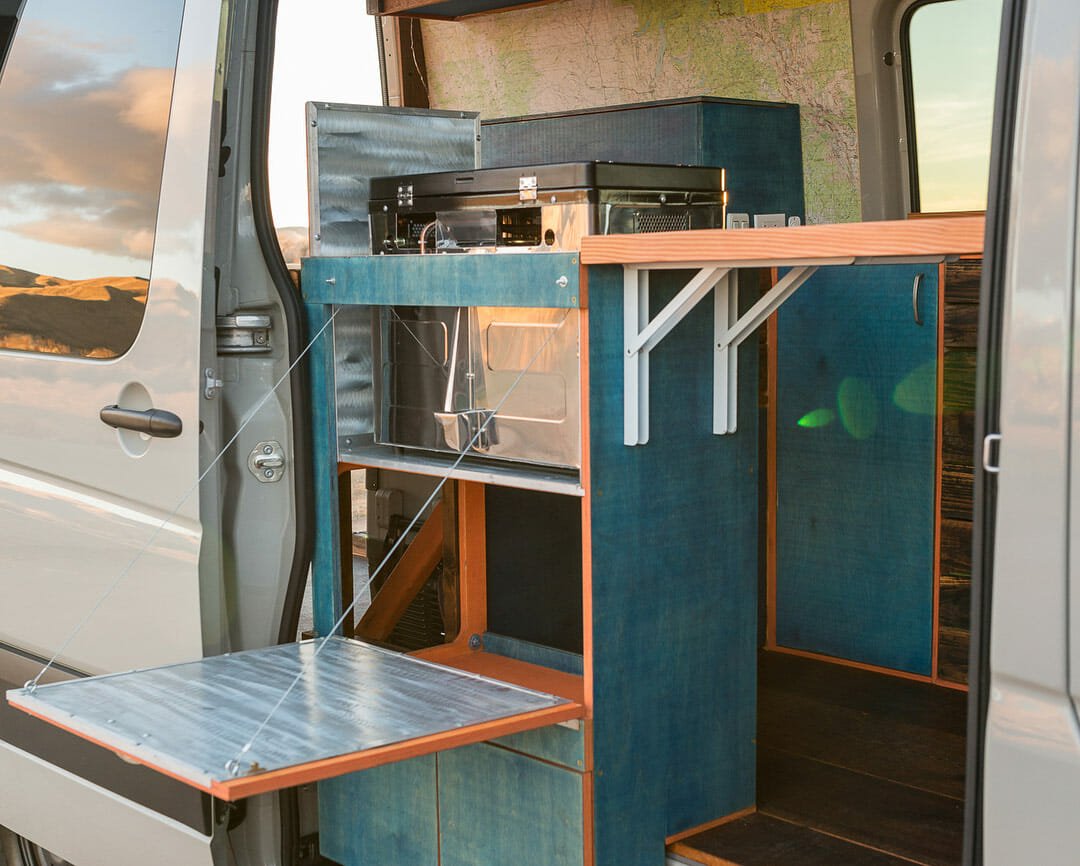 Source: parkedinparadise
When it comes to storage space, small campers demand big returns. Build shelving into your cladding to make sure that bottles and anything else is securely fastened. This way it's safe while you're travelling from A to B but it's also easy to spot and find what you're looking for, when you need it. Check out more clever campervan storage ideas.
4.     Level up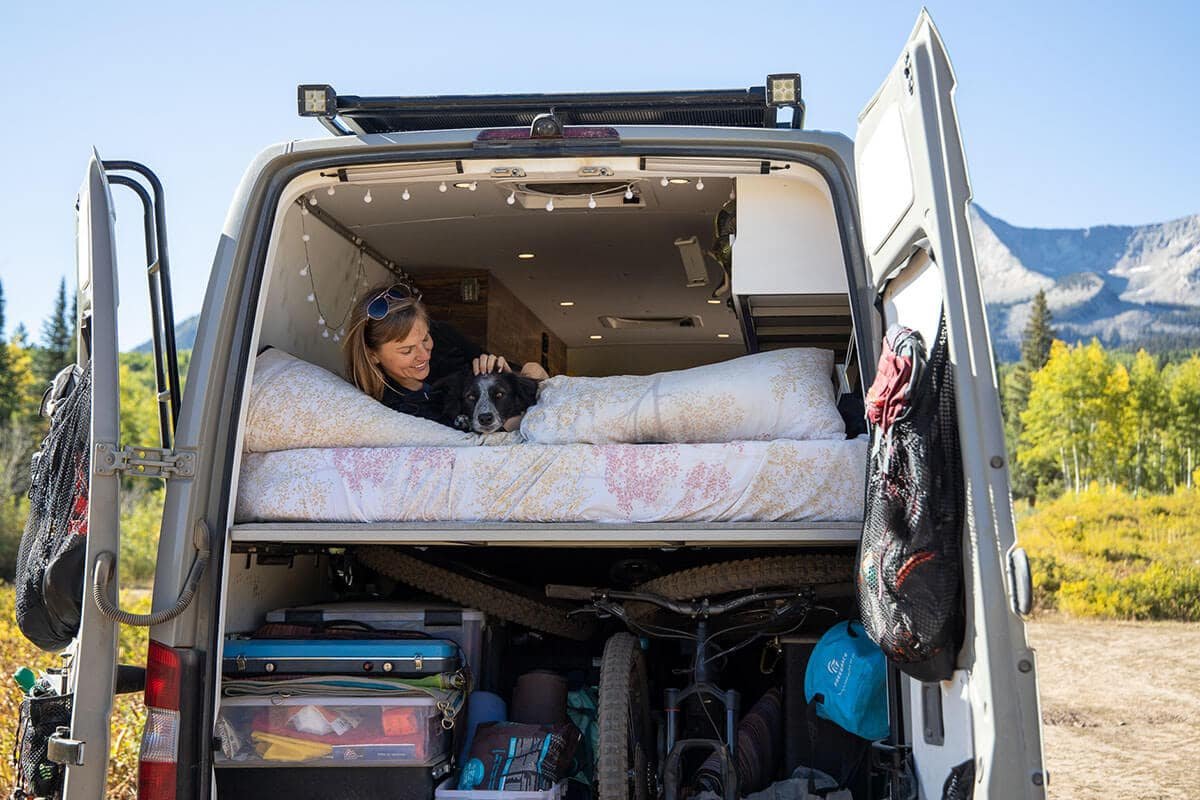 Source: bearfoottheory
A Transit Connect camper might be small but it's got reasonable height. As such, some of the best conversions involve going upwards to take full advantage of the height. By creating a platform bed, you ensure there is plenty of room underneath for storage. Indeed, there's so much storage under there we've even see it used for bikes! If you like to have the bed available 24/7 and will use space outside of the van for sitting and chilling, then this concept could work for your conversion.
5.     Hooks and bungee cords

Source: pinterest
Back to thoughts of storage, there are lots of genius ideas here. Pop some hooks on your back doors and you can hang up baskets for items that you need easy access to once you're at camp. Bungee cords across shelves also ensure you can stack and store more, even though the doors aren't 100% vertical. It's about being creative with the space you've got.
6.     Fold it down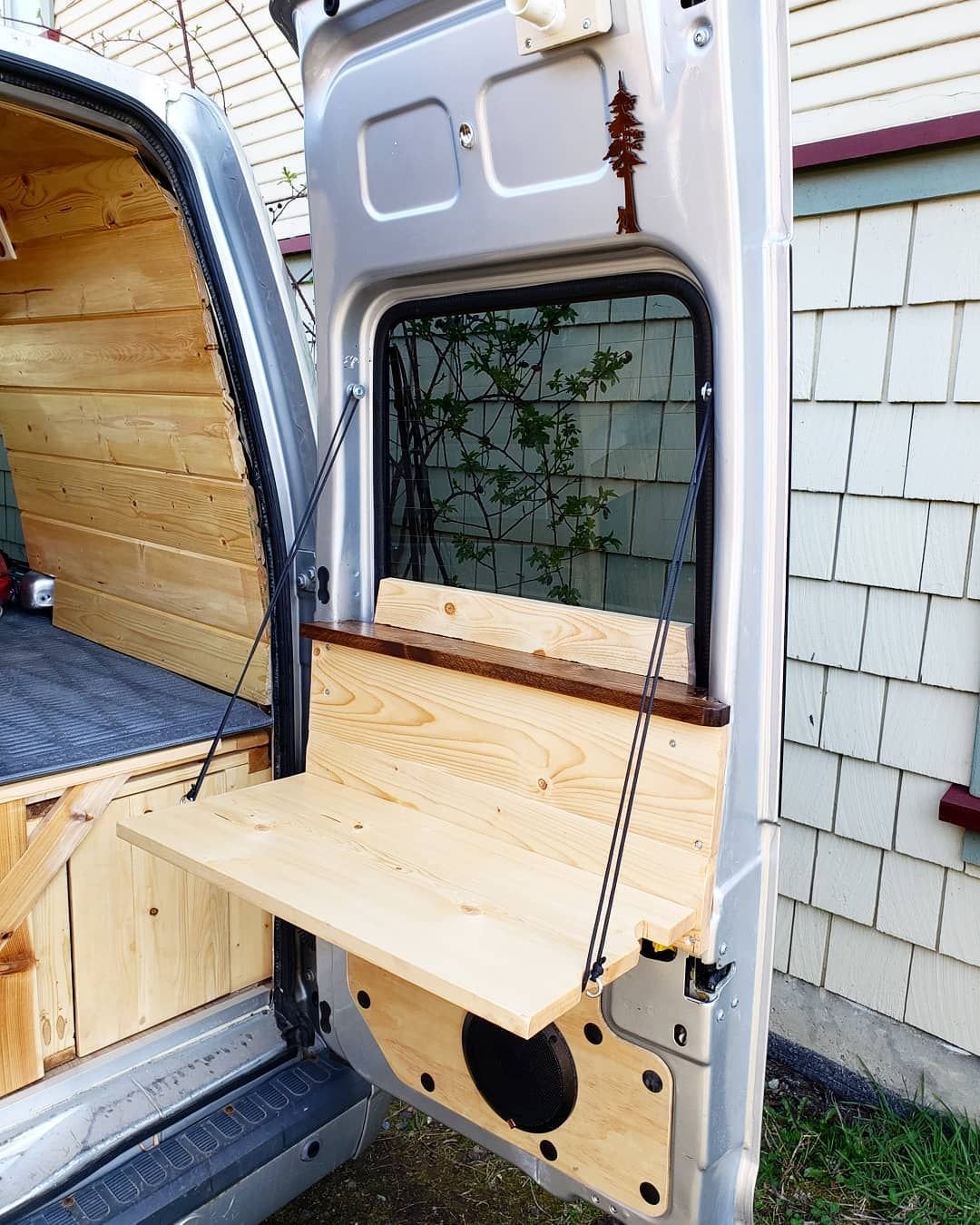 Source: pinterest
Another way to use your open back doors to make van life work in your Transit Connect camper is to install a fold down shelf. It can work to effectively turn your back door into a stove stand. Beats being hunched up over it on the floor any day! You don't have to use the shelf just for this either, it can be for your morning wash bowl and mirror, or even a standing desk for the digital nomad. Fold down shelves can also be really useful on the inside too!
7.     Units and cupboards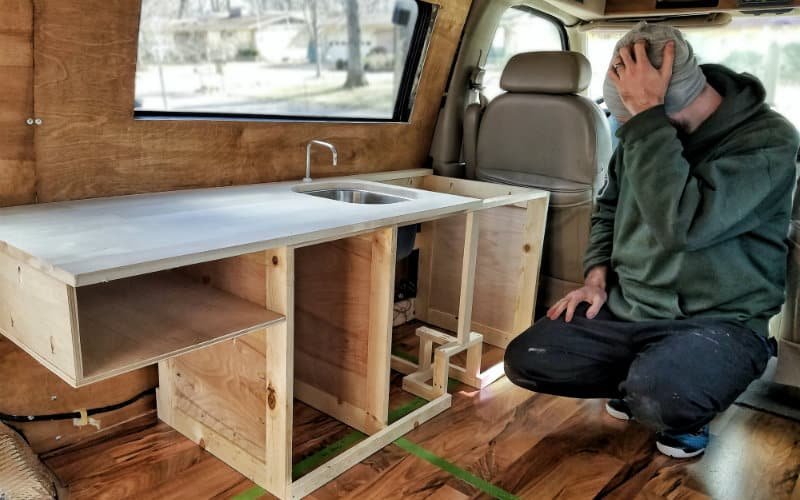 Source: gnomadhome
If we're banging on about storage, it's because we know just how important it is for actually living life from your van. We love the storage ideas here with the fitted cupboards and shelves. Everything has a place and everything is in its place. No space is left untended – if it can be converted for storage, it should be. That way the van is kept tidy and useable and you can take everything with you that you need for a great trip.
8.     Pop on an awning

Source: vansage
There's no getting around it – a Transit Connect camper is small. That's a real plus for having a vehicle for zipping about without cumbersome height restrictions or poor turning circles. However, it can be cramped if you want a bit more space. The simplest solution is to take your van living outside the camper! A straightforward tarp-style awning is the simplest solution for adding some living space in reasonable weather. We also love tent awnings for maximising space whatever the weather.
9.     Up, up, up!

You can't stand in a Transit Connect camper, unless you're under the age of about 7. But with minimal floor area, standing can be transformative. A great way to make more room from your space is to fit a pop top. This way, once you've pitched, you can simply pop the top and you have a more versatile and usable space. It makes van living so much easier.
10. Pull out drawers and units
Source: contravans
Lastly, if you've decided to create a platform bed, you can use pull out drawers and units under it to create more workable space. Pull out kitchenettes are effective, tables for eating around, and even more storage. It's a way of always making sure you take advantage of the room out the back of the van when you need it.
Have fun with your Transit Connect camper conversion. Don't forget to insure your hard work with dedicated campervan conversion insurance!